Virgin Atlantic has reported large losses for 2020 and called on policymakers in the USA and UK to provide the certainty needed to resume flying at scale.
As the bulk of Virgin Atlantic's services are on transatlantic routes, the carrier is hoping that the advanced vaccination programmes in the USA and UK will enable it to resume services this spring and summer, amid evidence of strong pent-up demand for leisure travel.
The UK government is set to announce which countries will be added to its 'green' list from mid-May, potentially enabling this to happen. But the airline's chief executive Shai Weiss warns that this system "doesn't go far enough" in ensuring that restriction-free travel can resume.
"Now we need certainty that the framework will allow for a phased removal of testing and quarantine," he says. "With world-leading vaccination programmes in both the UK and US, and evidence to support safe reopening through testing, there is a clear opportunity to open up travel and no reason to delay beyond 17 May."
As a long-haul-only carrier, Virgin Atlantic's business model was hit hard in the early stages of the crisis. Capacity, as measured by available seat-kilometres, was cut 73% in 2020.
This dragged revenues for the year down to £868 million ($1.2 billion), from £2.9 billion in 2019. Pre-tax losses surged to £864 million.
Describing the Covid-19 crisis as "the toughest year in our 36-year history", Weiss highlights the cost-saving measures the carrier has enacted as it fights for survival.
This includes creating a cargo-only business that generated £319 million in revenues, an increase of 49% on the company's freight earnings for 2019.
Virgin Atlantic also acted to "resize and reshape" its fleet, retiring early its fuel-hungry Boeing 747s and Airbus A340-600s, and deferring £880 million of fleet capital expenditure on new aircraft.
The airline's airport operations were consolidated around London Heathrow and Manchester, and staff numbers reduced 41% to under 5,900.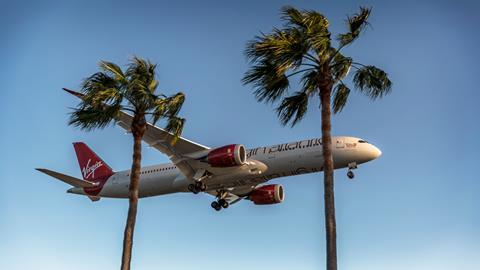 Combined, these actions contributed more than £300 million in cost reductions over the year.
The airline also bolstered its cash position through a £1.2 billion privately funded recapitalisation in September 2020. "Two further financing transactions closed in Q1 2021, raising an additional £330 million, with the proceeds paying down debt and bolstering the airline's cash position," it adds.
With vaccination programmes in its key markets raising confidence that the Covid-19 pandemic may be receding, the airline appears hopeful that it can begin to restore its finances over the coming months.
"With the unwavering support of our people, our creditors and shareholders, Virgin Group and Delta Air Lines, we continue to bolster our balance sheet in anticipation of the resumption of international travel from 17 May," states Weiss.
"We remain confident that Virgin Atlantic will get back to its best for our people and our customers, emerging from the crisis a sustainably profitable airline."
The airline notes that without the pandemic it believes it would have returned to profitability in 2020, following several years of disappointing earnings.