Mexican ultra-low-cost carrier Volaris is weathering the coronavirus storm thanks to its variable cost base, but still expects its fleet size to be flat through to 2023 as demand inches back.
Speaking during a webinar organised by the World Aviation Festival on 7 July, Volaris chief executive Enrique Beltranena said that the carrier's costs "are absolutely variable" and that it is operating with "the same number employees as when [the coronavirus crisis] started".
Retaining the workforce has been possible, he explains, because staff are employed on flexible payment terms.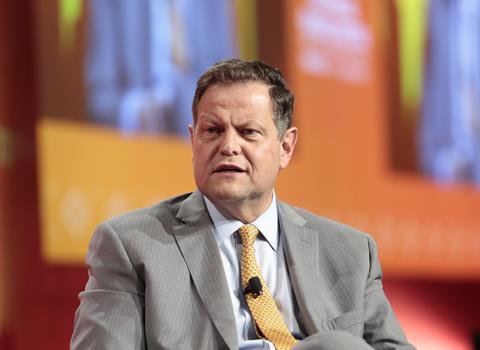 That is among reasons why the carrier has "barely burned" any of the $450 million (€398 million) in cash that it had going into April and May, when its operations were largely grounded.
"We have been able to reallocate a lot of the fixed expenses of the company and renegotiate deferrals and haircuts in a lot of cases," Beltranena says. "As a result, we are preserving our cash in a very effective way."
He clarifies that reports the carrier is looking to private markets for funding are "not really" true, despite Mexico's government ruling out state aid for the airline sector. Volaris might, however, seek external cash should it target speedier expansion than currently envisaged, he says.
Amid that lack of state support, the outlook is not so positive for other carriers in Mexico, Beltranena believes.
He expects that "in matter of 24 months [the market] will recover its demand at regional levels but maybe with one or two carriers less".
Among Mexico's airlines, flag carrier Aeromexico recently filed for bankruptcy protection, while low-cost rival Interjet has been under severe financial pressure.
For all of Mexico's carriers, Beltranena reckons demand will be 65-68% of 2019 levels by the end of 2020, rising to 85-88% by the end of 2021, then reaching parity by the end of 2022.
Volaris has an advantage amid that recovery because it focuses on visiting friends and relatives traffic, he says, where demand has been returning more quickly compared with the corporate sector.
As a result, Volaris' share of the Mexican market has risen as flights ramp up, from around 30% pre-March to 40% in July, Beltranena claims.
Much of the airline's strategic focus is still on convincing people to switch from bus travel to Volaris' domestic flights, he continues, adding that enhanced pandemic-related health procedures on aircraft versus buses might tempt more people to change modes of transport.
But despite Beltranena's confidence in Volaris's financial security, the carrier is still reining in fleet expansion plans, including through deferrals of incoming Airbus A320neo aircraft.
The airline has agreed to keep its all-leased fleet "at the lowest level" in the near term, Beltranena states, adding that it would go to the secondary market "if necessary", should demand differ from current assumptions.
Cirium fleets data shows Volaris has 63 A320neos on order, plus 43 A321neos. The carrier in June announced it was deferring eight of the 18 deliveries it had expected to take through to the end of 2021.
Baltenena says the airline will still "probably take delivery" of five A320neos that were due to arrive earlier this year, and is therefore likely to end 2020 with around 88 aircraft.
From 2021, "we will be taking deliveries of the A320neos, but we'll be getting rid of A320ceos, so we can really take advantage of the reduction of the fuel burn".
That reduced fuel burn is an important differentiator for an ultra-low-cost carrier's unit costs, despite low fuel prices, Beltranena says.
"With deliveries to 2023, it's going to stay pretty much the same, at 86-88 aircraft every year," he adds regarding Volaris' near-term fleet size.
Volaris' network covers domestic services in Mexico, plus routes to the USA and Central America.
The carrier is partly owned by Bill Franke's Indigo Partners.