Mexican low-cost carrier Volaris has revised its full-year capacity and earnings expectations due to additional inspections of its Pratt & Whitney geared turbofan (GTF) engines.
The company said on 10 October full-year operating revenue will be around $3.2 billion, at the lower end of prior expectations. Capacity as measured in available seat miles (ASMs) will rise 10% rather than the 13% it had forecast earlier.
The company also now expects an EBITDAR margin for 2023 of about 26%, down from an earlier expectation of 29%-31%.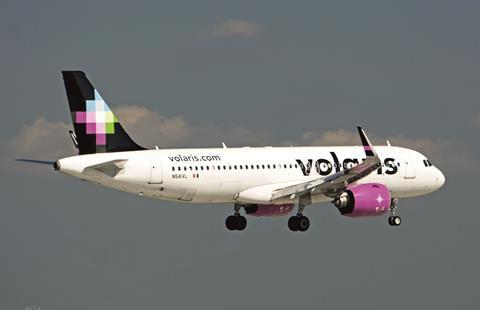 "The accelerated inspection program will include engines in our fleet," says chief executive Enrique Beltranena. "The Volaris team is actively executing plans to mitigate the engine inspection impact, including a project to optimise our route network. We anticipate our growth rate will slow while we work through the required engine shop visits."
He adds that the airline will "continue to modify our plans as we get more detail from P&W". He says the company was forced to lower its earnings expectations due to "the continuing volatility in jet fuel prices and the effect on ASM production as we work through the engine issues and its projected impact on our network and profitability".
In July, RTX, the parent company of Pratt & Whitney, first disclosed that 1,200 of its next-generation turbofan engines would need to be returned to the company for inspections and partial disassembly, citing possibly defective high-pressure turbine disks that require removal and inspection ahead of regular maintenance schedules.
In September, RTX detailed the scope of the issue, saying airlines will need to remove hundreds of the engines from the wings of Airbus A320neo-family jets by the end of 2024 to inspect for the defective high-pressure turbine and compressor discs.
Volaris is scheduled to publish third-quarter earnings on 23 October.