Mexico's Volaris reports a second-quarter 2023 profit of $6 million as its leisure-focused operation benefited from significantly lower fuel costs compared with last year.
The ultra-low-cost carrier's second-quarter fuel expenses declined 29% year on year, to $255 million from $359 million, the airline reported on 24 July. Its $6 million profit compares to a $49 million loss during the same quarter last year.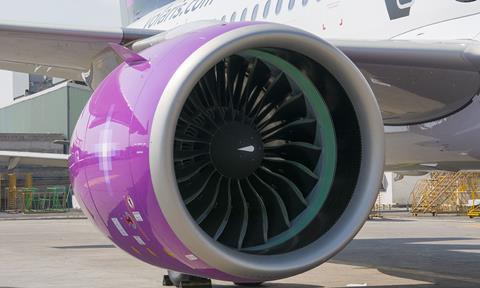 Volaris' second-quarter revenue rose 13% year-on-year to $782 million, compared with $691 million last year.
"The company's second-quarter results are in line with our full-year outlook, boosted by lower jet fuel costs and a stronger Mexican peso," says Enrique Beltranena, Volaris' chief executive.
The Mexico City-based discounter flew 8.4 million passengers during the three months ending 30 June, up 12% year on year. Its capacity in available seat miles increased 18% over the second quarter of 2022.
The carrier has now boosted its expectation for full-year 2023 capacity growth to 13%, up from 10%. It still expects to generate $3.2-3.4 billion of revenue in 2023.
Volaris believes its steady performance will continue into the third quarter. "The solid bookings for the upcoming summer months further validate the resilience of the [visiting-friends-and-relatives] passenger base in Mexico and the robust demand in Central America and the United States," Beltranena says.
Last month at the Paris air show, Volaris said it had ordered 25 more Airbus A321neos, bringing its backlog to 143 A320neo-family aircraft – all powered by Pratt & Whitney PW1000G engines.
"The additional GTF-powered A321neo aircraft will drive our growth while being mindful of our environmental footprint," Beltranena said on 19 June.
P&W on 25 July disclosed that 1,200 of those engines would need to be returned to the company for inspections and partial disassembly, citing possibly defective high-pressure turbine disks that require removal and inspection ahead of regular maintenance schedules.
Volaris did not respond to a request for comment about how the new PW1100G inspections might affect its operation.
The carrier took delivery of two A321neos and one A320neo during the second quarter, ending the period with a fleet of 123 aircraft – including 53 older A320ceo-family aircraft. It expects to operate 127 jets by the end of the year, and to fly an all-Neo fleet by 2028.