Willie Walsh signed off as chief executive of British Airways and Iberia parent IAG during the group's AGM today, at the same time confirming he is leaving the aviation industry after a four-decade career.
He handed over control – and a list of challenges, many coronavirus-related – to Luis Gallego, the former chief executive of Iberia.
Having led the group since its inception, Walsh was originally due to step down in March but delayed the move as the coronavirus crisis struck.
"As I retire from IAG today, and leave the aviation industry after 42 years, I am delighted that Luis Gallego is replacing me as group chief executive," Walsh stated at the AGM. "He has been my natural successor for several years having shown at Iberia that he is a world-class leader."
Citing the impact of the coronavirus crisis, Walsh continues: "When [Gallego's] appointment was announced in January, no one could have imagined the challenge he would face when he took up his new role. However, I have every confidence that he is exactly the right man for the job and will prove to be a superb appointment."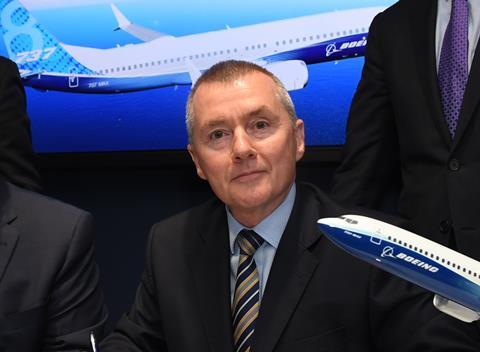 The challenges faced by IAG's new chief are numerous, although Walsh notes in his closing speech that IAG is well placed to survive the downturn.
"Due to our hard work over the last nine years, IAG was in a strong position both strategically and financially going into this crisis," he states. "We were quick to take action not only to address the immediate challenge we face from the pandemic but, critically, to enable us to emerge from the crisis in a strong position."
Nevertheless, Gallego will not be short of issues to focus on.
IAG's reliance on transatlantic markets, for example, creates an immediate challenge, with Covid-19 travel restrictions meaning only a skeleton service is possible on such routes.
Indeed, such travel restrictions are also creating havoc for carriers serving intra-European markets – another key sector for IAG.
For the network carriers in the group, the structural changes in the air transport market, such as a potential fall in spend from corporate travellers, will need to be addressed.
Employee relations also have downside risks – not least with the fractious situation around 12,000 jobs being cut at British Airways and impending decisions regarding potential cuts at Iberia and Vueling when state support schemes end.
The renegotiation of a deal to purchase Spanish leisure carrier Air Europa is also continuing, while fleet decisions will take on a new dimension amid the recovery from the pandemic – particularly those regarding the surprise 200-aircraft letter of intent signed for Boeing 737 Max aircraft at last year's Paris air show.
At the same time, the retrenchment of long-haul low-cost unit Level potentially raises questions about its longevity.
The high proportion of challenges relating to Spanish markets is one reason Gallego was seen as an ideal replacement for Walsh. Among his achievements, the Spaniard is credited with turning around the performance of Iberia since taking the helm in Madrid.
As part of the reshuffle at the top of IAG, Javier Sanchez Prieto is switching from heading up Vueling to become chief executive of Iberia, while Marco Sansavini is stepping up from his role as the latter's chief commercial officer to become chief executive of the low-cost carrier.
"It is… really gratifying that our internal succession plans have borne fruit once again," Walsh states.
The Irishman steps away from IAG having built what some see as a blueprint for a strong airline holding structure, which brings synergistic benefits while enabling carriers to retain national identities.
The 2011 formation of holding company IAG as part of the merger of British Airways – which Walsh was leading – and Spanish flag carrier Iberia heralded a new era for commercial aviation in Europe as operators scrambled for a sustainable future following the global financial crisis.
Following IAG's formation, the group went on to acquire the assets of BMI and absorb Walsh's former employer Aer Lingus and Spanish low-cost carrier Vueling. Then, in 2018, Level was launched as a response to competitive pressures from the likes of Norwegian – who IAG attempted, and failed, to purchase – in the long-haul low-cost segment.
The addition of Air Europa to the group was proposed in November 2019.
Under Walsh, IAG achieved investment-grade status and was consistently profitable in recent years.
Walsh started his aviation career as a pilot at Aer Lingus in his native Ireland. He became chief executive of the Irish carrier 2001, before being named BA chief executive in 2005.