WestJet Group has started cancelling flights and grounding the "majority" of its fleet as the airline's pilots, represented by Air Line Pilots Association, International (ALPA), threaten an imminent strike.
The Calgary-based carrier said on 18 May it is drawing down its network to "avoid abandoning aircraft in remote locations without support" in the event its pilots begin disruptive labour action early on 19 May.
"Given that a tentative agreement has not yet been reached, the WestJet Group is parking the majority of its 737 and 787 fleet, in a measured, phased and safe approach," WestJet says.
"Limited 737 flights will continue", as will flights operated by WestJet's regional airline subsidiary Encore, which flies De Havilland Canada Dash 8-400 turboprops.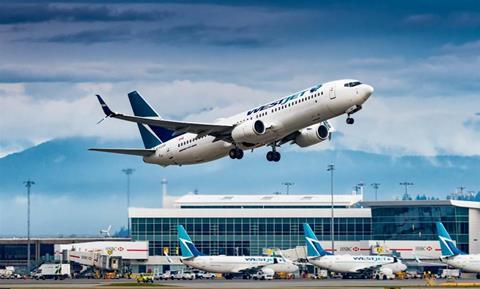 WestJet does not specify how many flights or aircraft it is grounding and does not immediately respond to a request for more information. Flight-tracking site FlightAware.com shows WestJet has cancelled 111 flights today, or 30% of its operation.
"We are extremely disheartened to find ourselves in a place where we have to activate our contingency plan and subsequent take-down of our network as a result of the strike notice served by ALPA and their inability to accept a reasonable offer," adds chief executive Alexis von Hoensbroech. "We deeply regret the disruption this will have on the travel plans of our guests and the communities and businesses that rely on our critical air service."
The parties are negotiating for a new contract but are "in a stalemate", with the union demanding "unreasonable" wage increases that would damage the airline's financial viability, the carrier says.
"We remain at a critical impasse with the union and have been left with no choice but to begin taking the painful steps of preparing for the reality of a work stoppage," von Hoensbroech adds.
Earlier this week, the two sides ratcheted up their rhetoric, threatening a labour conflict, as ALPA gave a 72h strike notice to the airline and Canadian government. That move prepared pilots to start disruptive labour action from early on 19 May. In response, WestJet Group - which includes WestJet and its low-cost subsidiary Swoop – threatened to lock pilots out.
In addition to improved job security, the union seeks higher pay and more-flexible schedules.
ALPA on 16 May warned a strike could force WestJet to ground all its aircraft ahead of what is anticipated to be a busy travel weekend – the first long weekend of the Northern Hemisphere's summer travel season. Canadian federal holiday Victoria Day is on Monday, 22 May.
"We remain at the bargaining table, unequivocally committed to achieving a deal as soon as possible, but are equally ready to weather labour action for as long as it takes to arrive at a reasonable outcome," says WestJet's von Hoensbroech.