Canadian airline company WestJet Group recently completed the integration of former ultra-low-cost subsidiary Swoop into its primary WestJet operation.
Launched in June 2018, Swoop operated a fleet of 16 Boeing 737s, including 737-800s and newer 737 Max. In January, WestJet pilots agreed to a four-year labour deal that included the full integration of Swoop into WestJet.
Swoop operated through the end of its flight schedule on 28 October.
The ultra-low-cost carrier's former web page now brings up a message that says "better together" and promises "more low fares to more destinations now that Swoop aircraft are a part of the WestJet fleet".
"With the integration of Swoop, the WestJet Group's ultra-low-cost carrier, concluding on October 28, and the further integration of Sunwing Airlines, the Group's expanding scale will significantly enhance its ability to provide affordability, reliability and choice to its guests," the carrier says.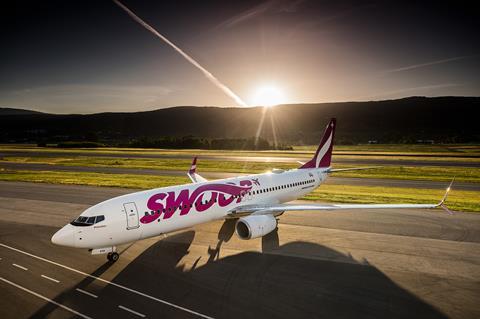 WestJet is now working to transfer to its air operator certificate 11 737s operated by Sunwing, which WestJet acquired in May. The full fleet integration is expected to be completed this month.
Though WestJet's acquisition of Sunwing raised antitrust concerns, WestJet has touted it as beneficial to cost-conscious air travellers. The combination leaves Canada with one fewer low-cost carrier – a space that includes such newer entrants as Canada Jetlines, Flair Airlines and Lynx Air.
Calgary-based WestJet operates 76 737NGs and 26 newer Max aircraft, in addition to seven 787 Dreamliners, according to Cirium fleets data. It also boasts "the largest narrowbody order book in Canada", with orders for 59 additional 737 Max.
WestJet says it is working to increase seating density in aircraft cabins across its fleet "to distribute costs across even more seats".