Canadian low-cost carrier WestJet is laying off more employees and cutting its already pared network by another third, citing government travel restrictions. The airline is also suspending 24 routes.
The move by WestJet follows the Canadian government's imposition of more travel rules following an outbreak in the UK of a particularly contagious strain of Covid-19.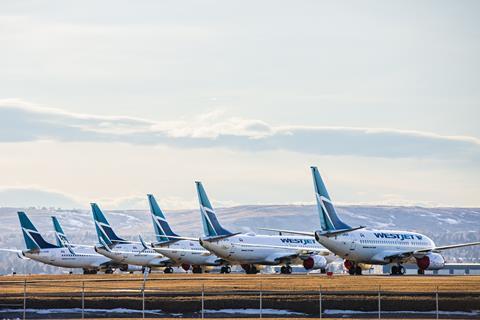 On 7 January, Canada will begin requiring inbound air passengers to present a negative virus test that is not less than 72h old. That comes atop an existing requirement that passengers quarantine for 14 days on arrival.
Calgary-based WestJet will cut the "equivalent of 1,000 employees and reduce capacity by a third", the airline said on 8 January.
It cites "volatile demand and instability in the face of continuing federal government travel advisories and restrictions".
"Immediately following the federal government's inbound testing announcement on December 31, and with the continuation of the 14-day quarantine, we saw significant reductions in new bookings and unprecedented cancellations," WestJet chief executive Ed Sims says. "The entire travel industry and its customers are again on the receiving end of incoherent and inconsistent government policy."
The restrictions are causing travellers "stress and confusion and may make travel unaffordable, infeasible and inaccessible for Canadians for years to come".
WestJet is cutting 30% of capacity from its operation in February and March, meaning capacity will be down 80% year on year. International capacity, meanwhile, will be down 93% year on year.
The airline is eliminating 230 flights weekly from its schedule, of which 160 are domestic services. That will leave WestJet with about 150 daily departures, about as many as it last had in June 2001, the airline says.
WestJet is suspending 23 routes, including those to several US cities and destinations in Mexico and the Caribbean.
WestJet cut some 6,900 workers, about half its staff, in March as the pandemic spread globally.
On 3 January, trade group IATA voiced "deep frustration" with Canada's additional coronavirus testing burden, calling the requirement "callous and impractical".