WestJet pilots have approved a new four-year contract with Calgary-based WestJet Group, which will now begin integrating ultra-low-cost subsidiary Swoop into its mainline operations.
The Air Line Pilots Association (ALPA) said on 9 January that the new collective baragaining agreeement is retroactive to 1 January 2023 and is effective through the end of 2026.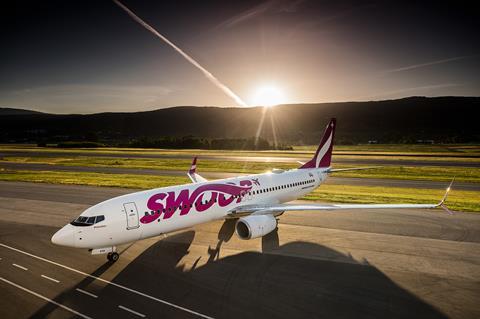 Of 95% of eligible WestJet and Swoop pilots who cast ballots, 87% voted in favour of the tentative agreement, ALPA says.
WestJet did not immediately say how big of a raise WestJet pilots would receive over the length of the contract. However, the airline said its new pilots' contract includes "industry-leading pay increases, strong job-security protections and major scheduling and quality-of-life improvements".
Negotiations nearly resulted in a strike. On 19 May, WestJet reached a last-minute tentative deal with its pilots, including those at Swoop, averting a 72h walkout that had been due to start that day. The carrier had already begun canceling flights and grounding most of its fleet.
The agreement "will go a long way to solve many of the airline's labour issues and bring more stability to our operations", says Bernard Lewall, chair of the WestJet ALPA group's executive council.
Negotiated as part of the labour contract, integration of Swoop into WestJet is expected to be completed by the end of October. Swoop will continuing operating through the end of its published flight schedule on 28 October.
WestJet also did not divulge how many Swoop pilots would be integrated into its mainline operation.
"This integration will enhance our ability to serve a broader spectrum of guests," says Alexis von Hoensbroech, chief executive of WestJet Group. "Instead of only 16 aircraft serving the ultra-low-cost market, each aircraft in our 180-strong fleet will offer ultra-affordable travel options through to a premium in-flight experience."
Cirium fleets data show that Swoop currently operates 16 Boeing 737s, all of which are under 10 years old.
Last month, WestJet completed the purchase of ULCC competitor Sunwing Airlines.