Canada's WestJet has laid off another 415 pilots as the coronavirus crisis continues tearing through that country's aviation sector.
The layoffs, which the Calgary-based airline announced in March, became effective on 1 April.
Pilot union Air Line Pilots Association, International (ALPA) blasted the Canadian government for its ongoing inaction on sector-specific financial support, which it says led to these layoffs, and which continues to create uncertainty for Canada's airlines.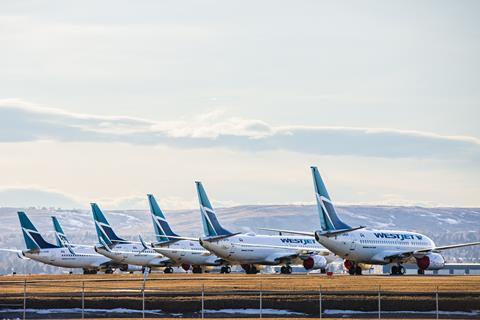 "Canada's aviation sector is a critical part of Canada's economy that facilitates both local and international commerce, plays an instrumental role in tourism and ensures the free movement of people and cargo throughout our vast and diverse country and around the world," ALPA Canada president Tim Perry says on 1 April. "Unfortunately, the government continues in its failure to respond adequately to the effects of the Covid-19 crisis on Canada's aviation sector."
"As the government continues to procrastinate, the industry grows more vulnerable with every passing day, and jobs continue to disappear," he adds.
Before the pandemic, the aviation sector employed more than 141,000 in Canada. Tens of thousands of jobs have been lost in the past year, with many more hanging in the balance.
"Almost 10,000 WestJet careers remain in limbo, with only 4,800 employees remaining on staff, compared to the 14,000 employed just 12 months ago. More than 400 additional layoffs, including my own, took effect today," ALPA's Perry adds.
When the airline announced the layoffs on 3 March, WestJet chief executive Ed Sims also faulted the government for not supporting the country's air transport industry. Other countries, including the USA and many European nations, have provided airlines with financial aid.
"Our ability to return to markets and restore our workforce remains correlated to government policies," he said. "Any further delays in establishing and implementing a blueprint to reopen and stimulate the economy will continue to undermine efforts to bring highly-trained and experienced professionals back to work."
Sims also said at the time that the country's airlines had lost 23% of their market share on international routes to competitors in Europe and the USA, where governments have provided sector-specific relief funds.
WestJet said last week that it hoped to restore most of its network – including international routes – by June. But that would require the government to relax travel restrictions.
Canada has had some of the strictest travel rules in place for more than a year. All inbound passengers from abroad are subject to a mandatory 14-day quarantine – the first three days of which must be spent at a government-authorised hotel at the guests' own expense – and undergo repeated testing.
In January, the government asked all Canadian airlines to temporarily suspend flights to southern beach and resort destinations in Mexico and the Caribbean – popular with Canadians during the country's long, harsh winter. That move put the brakes on carriers' usually lucrative spring break business.
In addition, regional rules make it difficult and complicated to travel across provincial borders, choking domestic travel.
The border between Canada and the United States, the longest peaceful frontier in the world, has been sealed for all non-essential travel since 21 March 2020.