WestJet Group has appointed longtime aviation maintenance executive Michael Scott as its new chief financial officer.
The parent company of Canadian carrier WestJet said on 8 June that Scott will join its executive team on 13 June, bringing 30 years of aviation industry experience to his new role.
He will assume responsibilities now held by interim CFO Jenn Bue, who will transition to become deputy CFO and report to Scott. Bue had held the interim role for five months.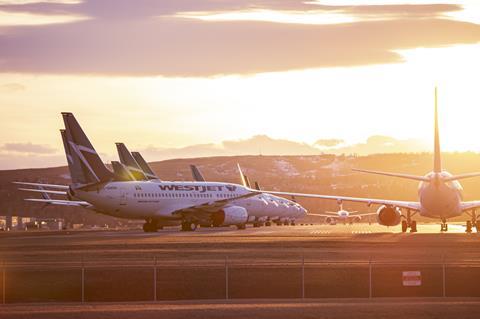 Scott's experience includes 13 years as CFO and treasurer of Arizona-based maintenance, repair and overhaul (MRO) provider StandardAero.
"There he led tremendous growth, with revenue increases of more than 300%, while delivering a 400% increase in profitability through a combination of organic growth, cost management and… mergers and acquisitions," WestJet says.
"Mike brings a wealth of financial leadership experience and a notable track record to our organisation," says Alexis von Hoensbroech, WestJet's chief executive. "We are a year into successfully executing on the WestJet Group's strategy to resume a long-standing track record of profitability, as we get back to our low-cost roots."

"We are thrilled to welcome Mike at this pivotal time," he adds.
Scott's expertise includes asset and capital management and investor relations, and he will oversee all financial management of WestJet Group.
"The WestJet Group's longstanding reputation as a leading low-cost and leisure airline and new strategic focus on returning back to its roots are just a few of the many reasons I am thrilled to join this Canadian aviation success story," Scott says.
On 19 May, Calgary-based WestJet reached a last-minute tentative deal with its pilots, including those at its ultra-discount division Swoop, in a move averting a strike due that day.
Earlier in May, the carrier said it completed the purchase of low-cost competitor Sunwing Airlines, roughly one year after announcing its intention to acquire the carrier in March 2022. Privately held WestJet did not disclose the purchase price.