WestJet pilots will vote to authorise a strike on 3 April, a move coming as the Air Line Pilots Association, International (ALPA) warns of labour disruption "that could extend into the summer months".
Hundreds of WestJet pilots gathered at the airline's headquarters in Calgary on 31 March, with ALPA saying flight crews "have grown increasingly impatient with WestJet management, [which] has failed to seriously engage in contract negotiations".
The union plans to disclose the results two weeks after the strike authorisation vote.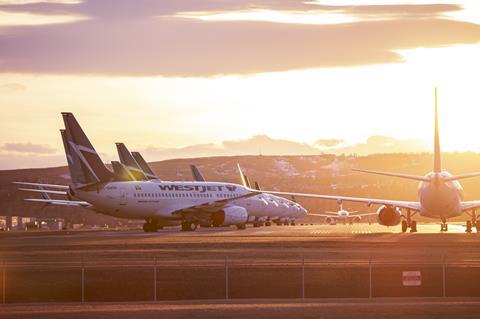 The pilots' union is decrying pilot recruitment and retention issues, cost-cutting on wages and WestJet's alleged "refusing to address concerns over scheduling and poor working conditions".
"Without an industry-standard contract, many WestJet pilots are choosing to leave for better opportunities, leaving a dwindling number of pilots choosing to work here," says Bernard Lewall, chair of WestJet's ALPA group. "Those of us here today are fighting for the change that will make our airline a career destination for pilots once again."
Across the airline industry, pilots have been winning significant pay raises amid the pilot shortage and general wage inflation, with US carriers such as Hawaiian Airlines, JetBlue Airways and Spirit Airlines recently reaching deals with their pilot groups – and ALPA-represented Delta Air Lines pilots winning $7 billion in cumulative pay increases over the next four years.
Negotiations between ALPA and WestJet's management are being conducted through the federal conciliation process, which is set to end of 24 April. Without an extension, a mandatory 21-day cooling-off period will begin.
"If an agreement is not reached prior to the Victoria Day (22 May) long weekend, both parties would be released to self-help, such as a strike or lockout, that could extend into the summer months," ALPA says. "A strike vote among the pilot group is a mandatory step in the process of being released."
"Unfortunately, we do not believe in management's ability to bargain in good faith," Lewall says. "After half a year of negotiating, management still fails to have a realistic understanding of today's labour market, consistent with collective agreements other ALPA-represented pilot groups are signing with their employers."
WestJet recently received approval from Canadian regulatory authorities to acquire vacation specialist Sunwing Airlines and stands to add 40 aircraft to its fleet – 25 Boeing 737-800, 14 737 Max and one Airbus A321.
WestJet's fleet includes 78 737NGs, 22 737 Max and seven 787 Dreamliners.