WestJet pilots have voted to strike, if needed, as they continue to negotiate a new contract with the airline.
"With 95 percent of pilots voting, an overwhelming 93 percent voted to strike if needed," pilot union Air Line Pilots Association, International (ALPA) said on 18 April. "This vote is a clear sign that WestJet pilots remain committed to securing a North American industry-standard contract."
The pilots at the Canadian carrier say they will strike if no agreement is reached by 16 May.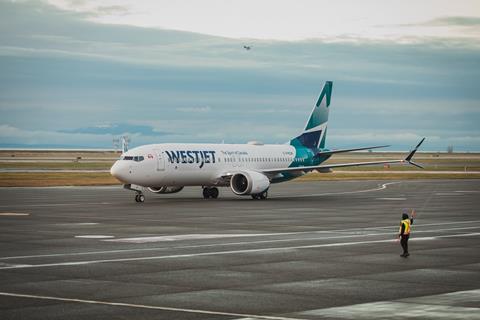 "Such a contract will go a long way toward fixing WestJet's recruitment and retention issues, which are largely due to the airline trying to reduce costs by driving down wages and refusing to address scheduling concerns and other poor working conditions, including job security for our members, especially given WestJet's acquisition of Sunwing," ALPA adds.
The union says that Calgary-based WestJet is losing about 30 pilots per month, and is on track to lose "up to 20%" of its experienced flight deck workforce within the next year.
"On average, every 18 hours a WestJet Group pilot turns in their wings for a better career," adds Bernard Lewall, chair of the ALPA WestJet master executive council. "We are hopeful that today's strong strike vote result and the excellent show of unity displayed during our informational picket last month incentivise management to reach an agreement with us."
The pilot union adds it "remains committed to the bargaining process", however.