Canadian carrier WestJet Airlines says it has taken the Boeing 737 Max jet out of its schedule until 24 June, following Boeing's announcement earlier today that it does not expect the aircraft to be re-certificated until "the middle of 2020".
"We thank our guests for their patience and our WestJetters for their commitment to keeping our airline moving safely and on time as we continue to adjust our schedule," says chief executive Ed Sims on 21 January. "We remain confident in the regulatory process undertaken by the Federal Aviation Authority (FAA) and Transport Canada to ensure the safe return of the aircraft."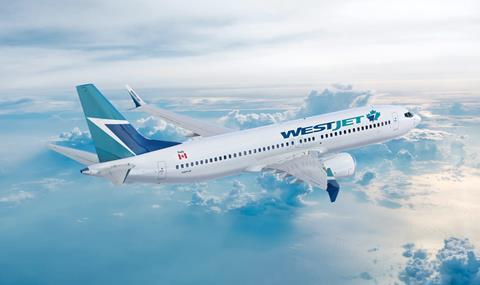 The Calgary-based airline says that it has completed more than 98 per cent of its planned departures even while its 13 Max aircraft remain grounded.
The aircraft's global grounding is now in its 11th month after two crashes killed a total of 346 people.
Boeing said earlier today in a statement that its latest projection "accounts for the rigorous scrutiny that regulatory authorities are rightly applying at every step of their review of the 737 Max's flight control system, and the Joint Operations Evaluation Board process, which determines pilot training requirements".
Boeing had estimated regulators would clear the jet to fly before year end. But in December, FAA administrator Steve Dickson quashed Boeing's plan when he said too much work remained unfinished for a 2019 sign off.
Since then, Boeing has shied from providing a timeline. Some industry observers estimated certification would come early in 2020, perhaps in February, with a rolling reintroduction of the Max into passenger service. Now, the FAA's sign off appears likely to come several months later.
In addition to the 13 grounded Max jets, WestJet has 44 more on order, according to Cirium Fleets data.
In December, Toronto-based Onex Corporation completed its buyout of WestJet for C$5 billion ($3.8 billion) including the carrier's debt, following final regulatory approval of the deal by the Canadian Transportation Agency.