The Intergovernmental Panel on Climate Change's latest report is another reminder of the pressing need for the aviation sector to significantly reduce its environmental footprint.
Absent action from aviation and other sectors to reduce greenhouse gas emissions, the UN body is clear about the likely dire consequences for humanity.
"Many changes in the climate system become larger in direct relation to increasing global warming," the Climate Change 2021 report warns. "They include increases in the frequency and intensity of hot extremes, marine heatwaves, and heavy precipitation, agricultural and ecological droughts in some regions, and proportion of intense tropical cyclones, as well as reductions in Arctic sea ice, snow cover and permafrost."
Amid that potentially bleak outlook, the IPCC's commentary on aviation highlights the short- and long-term impacts of emissions from the sector. In both cases, aviation contributes to warming temperatures.
In the short term, contrails and nitrogen oxide (NOx) emissions from aviation have the biggest impact in terms of the sector's effect on temperature change, with carbon dioxide (CO2) emissions in third place.
In the longer-term, CO2 emissions become the primary driver.
"Overall, cirrus and contrail cirrus warming, as well as NOx-induced ozone increase, induce strong, but short-lived warming contributions to the [global surface air temperate] response 10 years after a one-year pulse of present-day aviation emissions", the report states. "CO2 both gives a warming effect in the near term and dominates the long-term warming impact."
That dynamic means that aviation's impact on climate change versus other sectors is relatively small in the short term, when measured in terms of net temperature effect 10 years after emissions are released – albeit the data is not adjusted to reflect industry size.
The biggest impact after 10 years – in terms of decreasing or increasing surface temperatures – is from fossil fuel production and distribution, followed by agriculture, waste management, residential and commercial, fossil fuel combustion for energy, biofuel use for residential and commercial, land transportation, open biomass burning, industry, and shipping, with aviation having the smallest effect.
After 100 years, however, aviation's impact is more tightly aligned with that of other sectors, largely because the effects of CO2 on climate change tend to endure.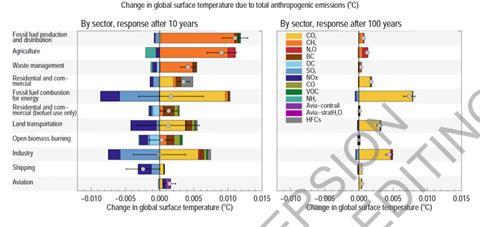 It is therefore no surprise that so much work in the aviation sector is focused on the challenge of reducing the sector's CO2 emissions in real terms, with less focus on softer measures such as carbon offsetting.
The pressure to act could grow, industry observers have previously pointed out, as other sectors more easily adopt technologies that do not involve the burning of fossil fuels, further exposing aviation's lack of immediate answers on the issue.
At the same time, the report explains that the impacts of climate change on people's day-to-day lives are likely to become more and more apparent.
"Global surface temperature will continue to increase until at least the mid-century under all emissions scenarios considered," it states. "Global warming of 1.5°C and 2°C will be exceeded during the 21st century unless deep reductions in carbon dioxide and other greenhouse gas emissions occur in the coming decades."
As many aviation stakeholders have already acknowledged, sustainability is firmly becoming an existential issue for the industry.