Rising jet-fuel prices will make it harder for airlines to reach cash-positive positions in the coming months, according to industry body IATA.
Speaking during a briefing on 7 April, the association's chief economist, Brian Pearce, explained that the recovery in overall economic activity around the world is causing energy costs to rise.
"Economists are actually increasingly positive about the wider economy," Pearce states. "We've seen this V-shaped recovery in global industrial production."
While that is "pulling up [air] cargo demand" to the benefit of some airlines, jet-fuel costs are tracking the rise in crude oil prices.
With average load factors of less than 50% on the international passenger flights that are possible today, "you can now see that airlines are having to pay more than $70 a barrel for jet fuel, which is almost as expensive as it was before the crisis", Pearce says.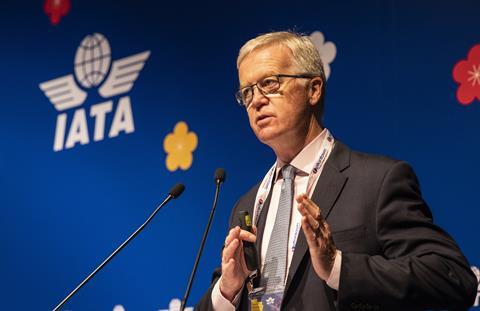 "Clearly that's making it more challenging to get back to cash-positive operations," he states, noting that low international load factors – even with domestic flights faring slightly better at just below 70% – made it hard enough for airlines to stop burning cash, without the added fuel-cost burden.
Data from the US Energy Information Administration shows that the US Gulf Coast jet kerosene spot price bottomed out towards the end of April 2020 at around $0.4/gal – or $17/barrel – and has largely tracked upwards since, reaching a 2021 high of $1.74/gal – or $76/barrel – in mid-March.
Over that period, demand for air travel began to recover from the initial impact of the pandemic in the third quarter of 2020, before levelling off and then falling again in the first few months of this year.
During the same briefing, IATA released data showing that while global air freight demand was up 9% in February this year versus the same month in 2019, passenger demand was down 75%, with few signs of imminent improvement.
IATA expressed some optimism, however, over prospects for the second half of 2021.
Earlier in March, the association warned that while airlines have made great strides in cutting costs during the crisis, cash burn is likely to continue throughout 2021.
FlightGlobal Premium subscribers can access the monthly 'Airline coronavirus recovery tracker', which features data on key industry indicators such as jet fuel prices