The winter weather hitting the Midwest and Northeast USA continued disrupting the plans of holiday travellers on 22 December, forecast by the US Federal Aviation Administration to be the busiest during the holiday period.
5,578 flights had been delayed and 2,148 had been cancelled throughout the USA as of 12:30 Pacific Time on 22 December, according to the flight-tracking website FlightAware.com – figures that will continue to rise throughout the day.
"We had a great Thanksgiving week with minimal disruptions, but unfortunately it's not going to be that way going into Christmas," US transportation secretary Pete Buttigieg said on MSNBC on 21 December. "We have not just a large portion of the country affected by these winter storms, but that includes some of the key hubs for many of our airlines."
The winter weather comes on one of the peak travel days during the already-busy holiday season. The FAA says 47,554 flights are scheduled.
In Chicago, O'Hare International airport anticipates 4.7% more passengers during the holiday travel period compared with 2021, and 26% more passengers are expected at Midway International airport.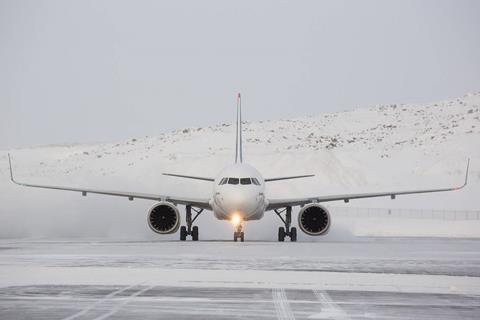 The northern USA's Great Lakes region and interior Northeast USA is getting pummeled with heavy wind, snow and sub-zero temperatures thanks to a so-called "bomb cyclone", a severe winter storm featuring rapidly decreasing atmospheric pressure.
"In anticipation of winter weather arriving to the Chicagoland area later today, airlines at O'Hare have proactively cancelled nearly 470 flights," O'Hare International Airport said early on 22 December.
Airports in Milwaukee and Minneapolis also expect blizzard conditions. Milwaukee Mitchell International airport said at 08:00 local time that it will stay open throughout the day save for "brief closures to clean the active runway".
The Northeast USA, meanwhile, is bracing for heavy wind and rain followed by freezing overnight temperatures by the weekend, according to the National Weather Service (NWS). Major hubs in New York and Boston are anticipating operational disruptions.
"Flight activity at La Guardia airport may be disrupted by heavy rain and strong winds later today and Friday," the airport said.
Southwest Airlines had cancelled about 500 flights out of 4,000 it had scheduled for 22-23 December, mostly at Chicago's Midway and Denver International airport, the airline says.
As of 20 December, the weather forecast prompted United Airlines to enact travel waivers affecting 142 of its 210 US destinations – about two-thirds of its network in the USA. United expects to carry about 8.3 million passengers during the period from around Christmas through the new year.
Canadian airlines are also struggling with weather-related disruptions. On 20 December, Calgary-based WestJet began offering full refunds to passengers who wanted to proactively cancel their flights through 26 December.
"Unfortunately, weather challenges are expected to continue and there is limited availability to reaccommodate due to the demand," WestJet says.