German turboprop developer Deutsche Aircraft has Acro Aircraft Seating to supply its Series 9 for the in-development D328eco, while Moldovan low-cost carrier FlyOne has chosen the latest version of its Mirus Aircraft Seating's Hawk economy seat to retrofit a pair of Airbus A321s.
The deals, announced on the 7 June during AIX in Hamburg, also sees Deutsche Aircraft pick Acros as an approved retrofit supplier for legacy D328 turboprops and jets.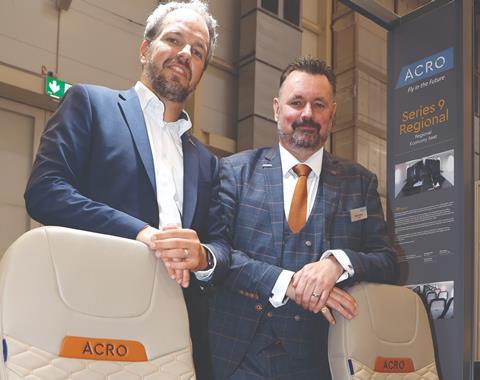 Neil Cairns, chief executive of Chinese-owned Acro described Deutsche Aircraft's decision as "a great deal for us" that was swayed by the fact that the Series 9 is the "widest and most comfortable seat on the market" as well as an alignment of values on sustainability: Acro claims that the Series 9 is "99% recyclable".
Deutsche Aircraft chief operating officer Nico Neumann says the "weight and recyclability" of the Series 9 were key factors in the move.
In May, the Leipzig-based company announced Private Wings as the launch customer for its D328eco, with a commitment for five aircraft. Berlin-based Private Wings already operates 10 examples of the original Dornier 328, nine turboprops and a jet.
The 328eco is a re-engined and 2m (6ft 7in) longer version of the earlier Dornier 328, which increases capacity to 43 passengers, 10 more than the original. Deutsch Aircraft is targeting service entry of the Pratt & Whitney Canada PW127XT-S-powered type in 2026.
Northamptonshire-based Acro is gearing up to supply its Series 6 fixed back seat for Allegiant Air's order for 50 Boeing 737s. The deal, announced last year, is Acro's first line-fit deal on Boeing aircraft. It already supplies seats for new Aircraft jets.
Acro plans to begin production in a new Shanghai factory by the end of the year. It will provide seats for the Asian market. The company also plans to establish a production line in the USA at some point, says Cairns.
Meanwhile, Moldovan low-cost carrier FlyOne has chosen the latest version of its Hawk economy seat to retrofit two Airbus A321s in a 220-passenger configuration.
Mirus says FlyOne, which launched in 2016 and flies to 43 destinations, opted for the Hawk seat because of its "unique slimline design and cost-saving abilities".