Air New Zealand and Safran Seats UK have presented the new Visa business class seat product which the Auckland-based airline has chosen for its Boeing 787-9 widebody fleet.
The airline will install the seat in four new aircraft it expects to receive into the fleet in the coming two years, and will retrofit 14 other airframes with the new seat, Air New Zealand's Kerry Reeves, head of aircraft programmes, said on 6 June at the Aircraft Interiors Expo in Hamburg, Germany.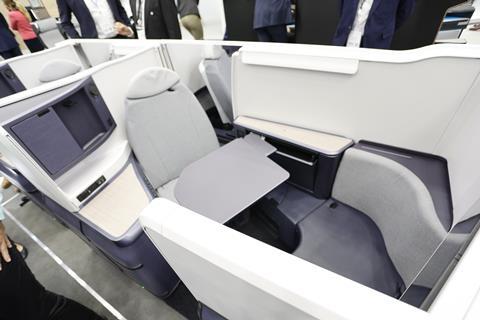 Air New Zealand intends to introduce the seat on its long-haul flights between Auckland and New York – a flight of about 16 hours - and later on the route to Chicago.
Safran introduced the seats last year.
"The features are second to none and they are amazing for the space that it takes up," Reeves says.
The seat will span two market segments for the carrier, Business Premier and Business Premier Luxe – the first row of the Business Class cabin, which has additional space and privacy to allow for partner dining.
Advertised as "the best sleep in the sky", Air New Zealand said last year it was looking to "lead on the ultra-long-haul travel experience". The bed features an 81in bed, one of the longest in the sky
"This is driven and validated strongly by continuous evolution as we go through our customer testing process," he says. The carrier encourages customers to fly other carriers so as to be able to compare the competitors' products.
"I am sure that other airlines will look at us with envy," Reeves says.