Airbus has unveiled Airspace Link, an open connected ecosystem that the manufacturer says promises more personalisation for passengers and flexibility for crews and airlines.
Speaking at a press briefing to unveil the initiative at the Aircraft Interiors Expo in Hamburg today, vice-president of the manufacturer's cabin & cargo programme, Andre Schneider explained: "Airspace Link is a multi-layered and flexible approach, which starts with the intelligent core management platform – ICMP…. [a] digital backbone covering the cabin management system as well as other layers."
The second "brick" of the ecosystem is the Internet of Things service that enables the system to connect the different elements within the cabin such as overhead bins, galleys, seats and life vests.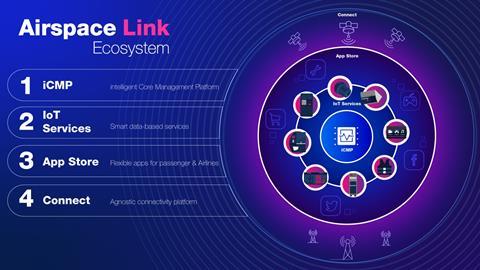 Airbus says this enables services for optimisation of ancillary revenues, passenger experience and operational efficiency.
"We will also have what we call simply the 'app store' that will host various applications for passengers as well as for airlines," Schneider adds.
He compares Airspace Link to "a flying smartphone". Schneider says: "It's about bringing the potential of the technology we use on the ground to the air. The flexible end-to-end system enables us to connect all the data and unleash all the potential that we see in the market, and generate efficiencies, ancillary revenues and a better passenger experience."
The system will enable passengers to personalise their journey - from ordering meals in advance, reserving overhead bin space, and applying their preferences to other aspects of their travel plans - and will allow the airline and flight crew access to this data. As a result, the carrier can potentially make more-conscious decisions that could cut down on waste as well as CO2 emissions, Airbus says.
That system will connect with the ground. The air-to-ground solution will provide broadband connectivity using radio-telephony transmission to be tailored for regional operations.
In addition, HBCplus or high-bandwidth satellite connectivity, "aims to become the one agnostic, supplier-furnished equipment (SFE) cross-programme connectivity platform, capable of hosting multiple satcom providers", Airbus says.
The HBCplus system's first managed service provider will be Inmarsat, while Safran Passenger Innovations will provide the equipment and lead the hardware integration.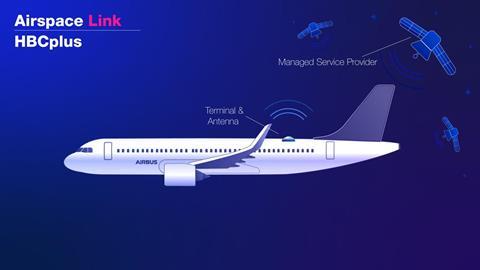 "We are excited to offer airlines a new connectivity service solution that will provide improved speed and reliability for passenger experience and more flexibility," Schneider says. "HBCplus is as simple as it is revolutionary."
Entry into service of the Ka-band satellite communications solution is planned for 2024 while the Ku-band will be introduced at a later date, Airbus adds.