Aircraft interiors suppliers are seeing growing demand for multi-class cabins in single-aisle jets during the recovery from Covid-19.
Speaking during FlightGlobal's Rethinking the post-Covid cabin webinar on 25 August, three executives from the sector noted the increased use of narrowbodies on longer-haul routes – epitomised by JetBlue's recent launch of transatlantic services using Airbus A321LRs.
The recovery in demand for widebody aircraft is likely to "take a lot longer", says Andres Budo, senior vice-president at interiors specialist AVIC Cabin Systems. Therefore, while AVIC does not want to "lose capability" in twin-aisle focused cabin products such as bars and social areas, "we're putting a lot more emphasis into single-aisle long-range aircraft", he states.
That task is a much richer one than it used to be, the panellists agreed.
Increasingly, explains Airbus's vice-president of cabin marketing Ingo Wuggetzer, airlines expect to operate multiple classes in narrowbody jets.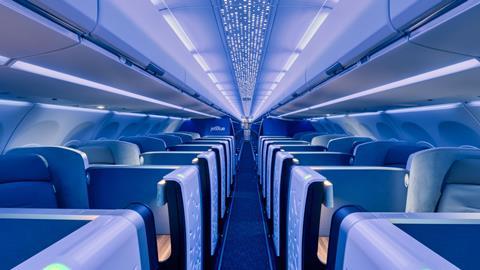 "There is a trend in single-aisle [aircraft] where you're coming from a one-class configuration to a three- or four-class configuration," Wuggetzer says. "That is bringing choice to customers and covering different market segments."
The head of strategy and products at seat specialist Recaro, Markus Hollerer, also notes that shift towards multiple-class narrowbodies.
"In some cases we see two-class layouts, but we're also seeing requests for three- or four-class layouts, even on single-aisle," he states.
AVIC's Budo adds that some airlines are asking for fewer business-class seats, "so it's giving a little bit more room to premium economy – where there was perhaps two classes, now there might be three".
Amid that trend, Budo observes that the creation of products for narrowbody aircraft is not simply a case of adapting the widebody offering.
"With the level of efficiencies that are required from these [single-aisle] aircraft, there is a need to specifically design for narrowbody," he says, citing considerations such as weight and maintainability.
"Anything to do with economics of operating an aircraft become more prevalent when you are designing specifically for single-aisles," Budo adds.
There is also more demand for the customisation of products, according to Hollerer.
"Customisation is coming more and more in economy, with the trend of having more single-aisle aircraft on longer routes," Hollerer says. "It brings a lot of opportunity for airlines and for us to create a cabin that perfectly suits the need for the airlines."
And the trend towards narrowbodies playing a bigger role on long-haul sectors is likely to continue into the long term, Hollerer suggests.
"The overall global fleet mixture probably is going to change over the years," he says. "I expect more point-to-point connections out there with smaller capacity."
As that plays out, Airbus's Wuggetzer says the customer experience must be consistent across all aircraft sizes – something that the airframer aims to achieve with its Airspace offering.
"For us it is important you have a consistent experience if you fly in a single-aisle or a widebody," he states. "That covers the whole environment, not just the seat.
"You can fly direct into smaller destinations with the same comfort and passenger experience, and we work with the seat suppliers to deliver that in single-aisle aircraft."