Aircraft storage and recycling company Tarmac Aerosave has passed the milestone of returning 1,000 aircraft to service, while planning to ramp hiring in Europe as airlines clamour for more jets.
Demand for recycled aircraft of various types, including the largest widebody jets, has taken off following a slower period in recent years, Tarmac said during the Paris air show on 20 June.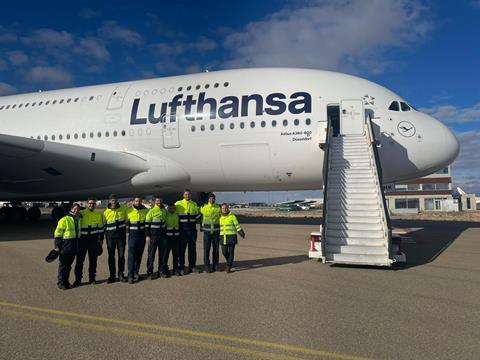 The company, which has offices in France and Spain, has received 1,500 aircraft since 2007, of which 1,000 are now back in service, it adds. "Since the end of 2022, the rate of returns to service has been particularly brisk and now includes all aircraft types."
The company has returned eight Airbus A380s to service since 2022 and plans before year-end to release another five. It has also recycled nine A380s, using parts from those jets to support in-service A380s.
Other widebody types, including A340s, A330s, Boeing 747s and 777s, "are following the same trend, returning to airlines' fleets after being stored for long periods, thus maintaining flight conditions", Tarmac says.
Soaring demand has prompted it to ramp hiring at its three sites, which include one in Spain and two in France. The company aims to hire 100 mechanics, technicians and logisticians this year, after having added 90 new employees last year.
"The increase in requests for transition [cabin modifications and reconfigurations], re-commissioning and the expansion of our sites mean that we will need to increase our workforce from 500 to 600 in 2023," says Tarmac chair Alexandre Brun.