Italian firm Aviointeriors believes it could begin delivering within as little as six months a new seat designed to encourage passengers to feel safe flying again once coronavirus restrictions are lifted.
In addition, a second, less complex retrofit concept could arrive within two months, the company says.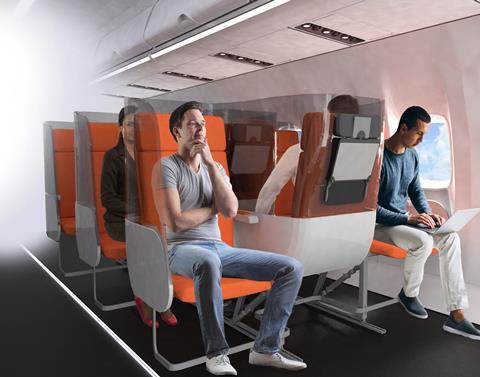 Aviointeriors' main proposal, called "Janus", is a new design which sees the centre seat in a row of three reversed "to ensure the maximum isolation between passengers seated next to each other". An additional clear plastic screen provides further protection.
Paolo Drago, chief executive of Aviointeriors, says that although reconfiguration of the cabin would involve a degree of complexity, the Janus design also offers extra privacy for passengers once fears of the coronavirus recede.
Drago maintains that a Janus seat row would occupy no more space than a traditional forward-facing configuration, while not interfering with escape regulations or requiring deep cuts in overall capacity.
But he acknowledges that exit rows may need to be left in their current configuration in order to meet regulatory requirements.
He believes the Janus product could be delivered in under six months if there is sufficient customer interest. "We have all the design and manufacturing capabilities required," he says.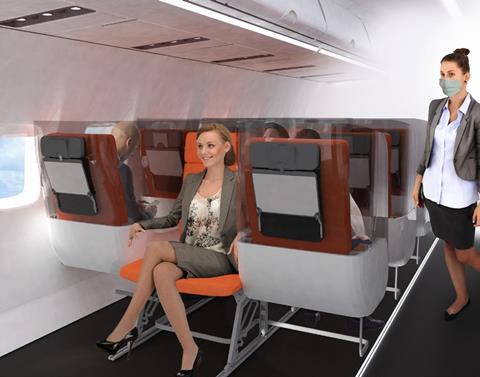 However, Drago points out that the design has yet to advance to the preliminary design review stage. "To reach that point I would need to launch a programme, and to do that airline X, Y or Z would have to show significant interest before I can invest in design or production man hours on it."
Aviointeriors' second design, "Glassafe", is a bubble of transparent material that encases the head and shoulders of a passenger. Designed for retrofit into existing cabins, the modification is a "quicker, cheaper and less invasive" solution, says Drago.
While acknowledging there would be some weight penalty from the Glassafe design, Drago points out the alternative is the "completely inefficient" solution of flying with an empty middle seat. "Maybe it would be better to keep the aircraft on the ground in that situation," he says.
Glassafe could be delivered in less than two months, provided regulatory clearance is achieved.
Aviointeriors has filed patent applications for both designs, which are suitable for narrow- and widebody aircraft.