Collins Aerospace opened this year's Airline Interiors Expo (AIX) by revealing two new premium airline seating products, including "Signature Dream" first-class suites and lie-flat seats for narrowbody jets called "Aurora".
The US aerospace giant is also showcasing a mock-up of a lavatory outfitted with touchless technologies and "virtual" windows.
"We are opening the kimono this year," Collins vice-president of interiors business development Cynthia Muklevicz says on 6 June at the AIX show in Hamburg. "We want you to see our expertise."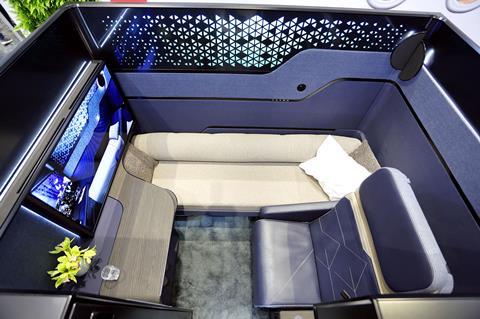 Its new Signature Dream first-class suites for widebody jets are enclosed spaces that include both a seat and a separate bed, the latter measuring a respectable 2.1m (82in) long. By comparison, says Muklevicz, some competing products do not have dedicated seats and beds, but rather seats that convert into beds. Signature Dream suites also have 42in video displays.
With the product, Collins created the "bones and architecture" of suites that can be customised to buyers' requirements, says Muklevicz. Collins set out to make the product luxurious but not so swanky and complex as to be "unapproachable" to travellers.
Collins already supplies earlier-generation first-class suites to carriers like Emirates Airline, Etihad Airways and Qantas.
But Signature Dream suites are new, introduced by Collins at AIX. It has not disclosed customers.
Collins also unveiled at AIX its Aurora lie-flat business-class seats for Airbus A321LRs, A321XLRs and Boeing 737 Max 10s.
Notably, the seats can be configured with as little as 32in of pitch, significantly less than competing products and accomplished by angling the seats more perpendicular to the length of the cabin, says Muklevicz.
When seated, passengers face toward the center of the aircraft, but Muklevicz insists fold-out video monitors and optional cabin doors provide ample privacy. She also says the layout allows cabin attendants to serve food and drinks without reaching over customers. The seats convert to 2m lie-flat beds, and the design provides space for airlines to carry an extra two galley carts – giving ample room for storing food and drink.
Collins has sold Auroras to two unnamed customers, both for installation on A321neos. It expects to begin deliveries in 2024.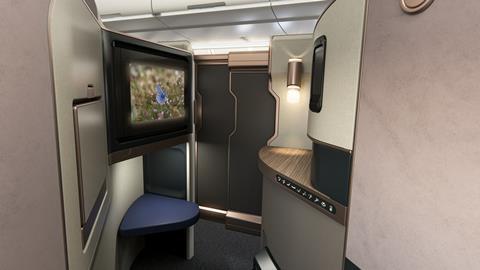 The company is also showcasing its lavatory technology at AIX, arriving with a loo mock-up equipped with touchless features and a virtual window.
Passengers can, for instance, flush or turn on the sink by bringing their fingers close to motion sensors. "There is no other touchless systems that works this well," says Collins director of lavatory sales Tim Lehnig.
The "industry first" virtual window is a video screen incorporated into the lavatory's cabin wall. Airlines can display videos, including advertisements, or images of the external world (a feature made possible by external-facing cameras).
Collins also equipped the lavatory mock-up with an app-based "central control system" that allows cabin crew to monitor, for instance, water usage and trash and soap levels. The company also offers health monitoring technology that can warn airlines if lavatory components such as motors are close to failing.
Lehnig says such systems can be incorporated into lavatories found on narrowbody and widebody jets. Depending on demand, such systems could be certified by 2027 and beyond, he adds.
Collins, via predecessor companies, earned its seating chops through manufacturing seats for business jets, and leveraging that expertise to enter the commercial aircraft sector.