Collins Aerospace has now opened "The Grid", a long-planned Illinois facility that houses its development of electric and hybrid-electric propulsion technologies for future aircraft.
The tier one supplier had previously intended to open the site in the city of Rockford in 2020 but Collins slowed some of its electric propulsion work during the Covid-19 pandemic.
Celebrating the opening on 4 October, Collins described The Grid as a "$50 million advanced electric power systems lab" focused on hybrid- and more-electric systems.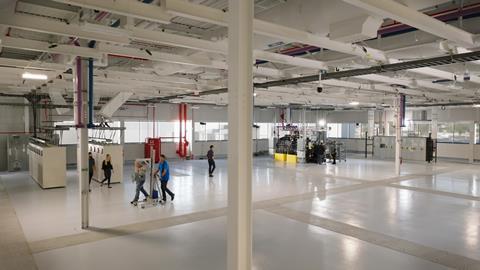 "The Grid will allow Collins to produce cutting-edge electric motors, controllers, generators and distribution systems" – equipment that can help the aerospace industry reduce its carbon output, says Collins, a subsidiary of RTX.
Encompassing 2,323sq m (25,000sq ft) of space, the site will initially support testing of equipment at power levels reaching 8MW, it adds.
Collins already supplies massive generators to aircraft including Boeing's 787 and has in recent years ramped up its development of new electric aircraft systems.
It recently developed a 1MW electric motor as part of a broader RTX project to modify a De Havilland Canada Dash 8-100 regional aircraft with a hybrid-electric propulsion system.
Sister company Pratt & Whitney Canada is assisting with that project, which involves replacing one of the Dash 8's PW120A turboprops with a hybrid-electric powertrain. The companies delayed the project during the Covid-19 pandemic and have recently said they aim for the Dash 8 to get airborne with the hybrid system for the first time in 2024.
Separately, Collins and Pratt & Whitney are jointly developing a broader line of hybrid-electric systems for the emerging urban air mobility sector. That sector generally encompasses small, in-development hybrid- and all-electric air taxis and fixed-wing regional types.
Through that effort – called the Scalable Turboelectric Powertrain Technology demonstrator programme – Collins and P&W plan to develop "propulsion concepts in the 100-500kW class, with potential to scale to 1MW".