Collins Aerospace will likely not begin shipping components for Boeing's still-grounded 737 Max until the second half of 2021.
The aerospace company's parent Raytheon Technologies also disclosed on 28 July plans to broadly overhaul its aerospace businesses in response to the dual challenges of the Max grounding and broad industry downturn.
The news came the same day Massachusetts-based Raytheon disclosed second-quarter financial results.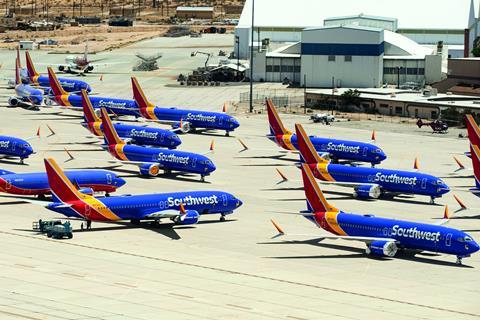 During the period, Collins lost $317 million, compared to a $1.3 billion profit in the same period last year. Collins' second-quarter sales slipped 36% year-on-year to $4.2 billion.
Speaking during the earnings call, Raytheon chief executive Greg Hayes attributes the extended halt of Collins' shipments of Max components to Boeing's existing inventories and slow planned rate of Max production.
"As Boeing has gone through and looked at the inventory levels of all our equipment… that led us to take a pause," Hayes. "We are probably not going to ship any 737 hardware until the back half of 2021."
"It's a refinement of the schedule," he adds. "The production is slower than anybody had anticipated,"
Boeing had produced 737 Max at a rate of about 42 jets monthly between March 2019, when regulators grounded the jet, and the end of that year. The airframer halted production from January to May, then restarted at a "low", but undisclosed, level.
Unable to deliver aircraft during the grounding, Boeing accumulated a stockpile of some 450 undelivered 737 Max, analysts estimate.
Boeing has said it will ramp 737 Max production to 31 jets monthly in 2021, though some analysts suspect the company may need to reduce that rate.
They say dried up demand for new jets amid the coronavirus downturn, combined with Boeing's huge inventory, may not support a 31-per-month Max rate.
Boeing may disclose more details about it production expectations when it releases its second-quarter results on 29 July.
The Max grounding has hit Collin's "disproportionally" harder than Raytheon's other aerospace company, Pratt & Whitney. That is because Collins is a major Max supplier. Its portfolio of components on the Max include landing systems, wheels, brakes, sensors, electric power generation systems, cabin connectivity products, display systems, flight controls, guidance and navigation systems and various cabin products.
Boeing's most-recent expectation is that regulators will certificate the Max in time to allow deliveries to resume in the third quarter.
"You are going to see a bigger impact at Collins in the near term as they are going to be more impacted by the 737 than anybody else," Hayes says.
Collins has also been hammered by a decline in commercial aftermarket sales, which declined 48% year-on-year in the second quarter.
Hayes says Raytheon is working to restructure its aerospace businesses so as to cut costs.
"I think this is an opportunity to overhaul… the commercial aerospace business," he says. "We have to look at… structural costs."
He cites high-cost manufacturing locations and other overhead expenses as items to be reviewed.
"There are going to be some tough things to do," Hayes says.