Emirates Airline is the launch customer for Airbus' HBCplus connectivity solution, to be installed on the carrier's Airbus A350-900 fleet.
The Dubai-based carrier will become the first airline to operate the agnostic satcom connectivity system, Airbus said at AIX on 6 June.
"We continue to strive for improvements and make good use of the evolving technology to support our product offering," Adel Al Redha, Emirates' chief operating officer says. "HBCplus, offered by Airbus, will provide our Airbus A350 fleet with better integration and performance using the latest generation of connectivity and antenna."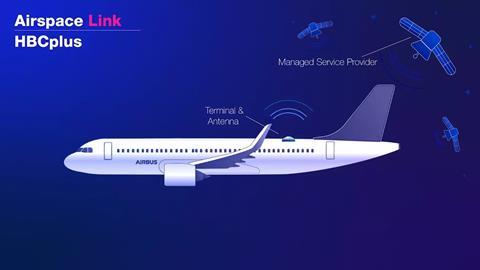 The system will be installed on 50 aircraft, beginning in 2024.
Airbus launched its HBCplus, or high-bandwidth satellite connectivity, at last year's AIX show. It provides continuous high bandwidth inflight connectivity and "aims to become the one agnostic, supplier-furnished equipment (SFE) cross-programme platform, capable of hosting multiple satcom providers", Airbus said at the time.
The HBCplus system's first managed service provider will be Inmarsat, while Safran Passenger Innovations will provide the equipment and lead the hardware integration.
Entry into service of the Ka-band satellite communications solution is planned for 2024 while the Ku-band will be introduced at a later date, Airbus has said.
"We are extremely pleased to welcome Emirates as the first airline to select our agnostic and flexible HBCplus high-bandwidth connectivity solution," says Andre Schneider, Airbus vice-president cabin and cargo programme. "As the OEM, we look forward to integrating and delivering state-of-the-art aircraft technology for Emirates, together with our partners Inmarsat and Safran Passenger Innovations, to deliver a fantastic customer experience through lightning-fast internet in-flight."