Twelve years ago, four young French engineering graduates – with no real background in product development or aerospace – decided to make their mark on aircraft interiors. They would disrupt the commercial aircraft seating market by designing a lightweight product they believed would be radically different to anything the giants of the industry were producing.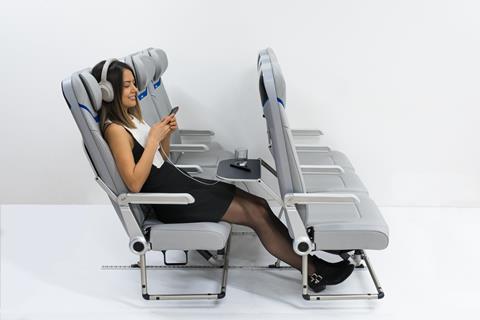 "We were the generation of the [Airbus] A350 and A380 and the [Boeing] 787, which were embracing new materials such as titanium, but when we flew in one of them we could not see that technology in the cabin," explains Amaury Barberot, one of the founders of Paris-based Expliseat, and its newly appointed chief executive.
The company claims its key product – the titanium and carbonfibre TiSeat – is the lightest in the industry. The seat is approved for platforms including the A320, 737, ATRs, De Havilland Canada Dash 8-400, and Comac ARJ21. Since entering production nine years ago, more than 10,000 have shipped to customers such as Air Tahiti, Cebu Pacific, Porter Airlines and SpiceJet.
The company is marking three major milestones at AIX. The first is a recent injection of capital of around €17 milion ($18.6 million) partly from the French state investment fund. Until now, the company has depended largely on investment angels, including French business leader and one-time briefly Airbus boss Christian Streiff.
The second is the opening of a new 6,000sq m (65,000sq ft) final assembly line in Angers, which the investment will largely pay for. The factory will complement the company's existing production facility in Montauban, near Toulouse, and the headquarters and design centre in Paris's fashionable 11th arrondissement.
Thirdly, Expliseat has secured what it describes as a breakthrough Airbus deal. Kuwait's Jazeera Airways will retrofit 11 A320s with the latest TiSeat. Until now, the vast majority of Expliseat's seats have been on regional aircraft. "We can now say we are serious about the single-aisle market," says Barberot.
As with most start-ups, Expliseat took some time to find its feet. Barberot and his co-founders spent the first three years finessing their design. Originally intending to create an all-composite structure, they settled for a titanium and composite mix. Barberot maintains that the TiSeat is still unique in the market in having a primary seat structure containing composite material.
After convincing the European Union Aviation Safety Agency to certificate their innovative seat in 2014, they won their first customer, delivering the first of what would have been 10 A321 shipsets to French charter carrier Air Mediterranee, only for the airline to enter liquidation a short time later.
Expliseat had more success in the regional segment, where the seat's weight advantage really paid dividends. Air Tahiti operated ATR 72s but was unable to sell every seat because of weight restrictions on short runways at island airports it served in French Polynesia. The airline retrofitted 10 of its turboprops turning a 500kg (1,100lb) weight saving into five extra tickets per flight, says Barberot.
After ATR approved it as a buyer-furnished equipment (BFE) supplier in 2016, Expliseat had further wins, including its first line-fit deals with ATRs. In 2017, it secured a BFE deal with SpiceJet, which was the launch customer for the high-density, 90-seat version of what was then the Bombardier Q400 – now the De Havilland Canada Dash 8-400.
By the time the pandemic arrived, the company had about nine customers. It had achieved its first supplier-furnished equipment (SFE) agreement with Chinese airframer Comac for the ARJ21, as well as its first retrofit deal on the 737 with Canadian leisure airline OWG. In 2021, in another landmark piece of business, Airbus included the TiSeat in its BFE catalogue for the A320 for the first time.
Expliseat is showing the latest version of the TiSeat, the E2 S-Line, at AIX. At 6.5kg the seat is slightly heavier than its predecessor – the company having traded some of the weight advantage for added cushioning and features, such as a bigger tray table, arms rests and a recline mechanism. However, Baberot claims it is still 1.5kg lighter than any rival.
More than 100 patents protect the frame design of the TiSeat and Expliseat has won an award for its strategy to protect its intellectual property. "A lot of competitors have reviewed our patents, but, we have done this for 10 years and no one has yet managed to copy it," he says. "We spend a lot of money protecting that IP. One day there will be another composite seat, but we have a head start."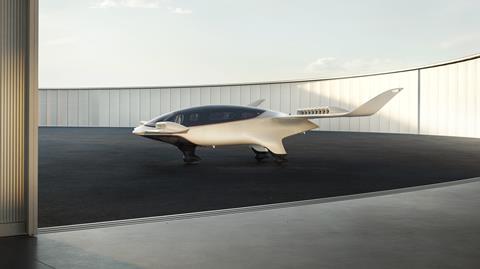 As well as a push into the single-aisle market, Expliseat is also focusing on the emerging urban air mobility market, announcing at Hamburg last year that it will supply the pilot and passenger seats for the electric vertical take-off and landing jet from German developer Lilium. Barberot is convinced further opportunities will come in a sector where weight saving will also be at a premium.
The new factory in Angers, which comes on stream this year, will allow Expliseat to produce up to 25,000 seats in a year. However, the company will keep its head office in central Paris, where Barberot says it is easier to attract young talented engineers and which is more convenient for customers and its regularly travelling sales team.
Barberot believes Expliseat's weight-saving selling point adds considerably to its sustainable credentials. However, the company is also looking at the seat's recyclability. It recently agreed with Air Tahiti to take back all of its first generation TiSeats that the airline was replacing on its ATRs, dismantle them, and recycle as much of the seat as possible into its new products.
"If the trial works," says Barberot. "We will extend the offer to all our customers as part of the contract when they buy new seats."