The Federal Aviation Administration has issued an airworthiness directive to address a computer issue that could lead to incorrect flight data being displayed in Boeing 787 cockpits.
Its order applies to 787-8s, 787-9s and 787-10s. It requires airlines, within 15 days of 20 March, to complete actions detailed in a February service bulletin issued by Boeing to address the issue.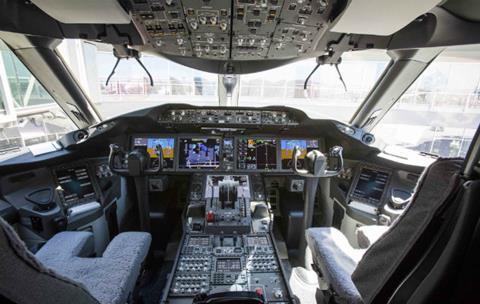 The order responds to a report that the 787's "common core system" can experience data monitoring problems after the system has been continuously powered for 51 days.
Data monitoring problems can cause issues with the 787's "common data network", which handles all the flight-critical data, including airspeed, altitude, attitude and engine operation, says the FAA's order.
"Several potentially catastrophic failure scenarios can result from this situation," the order says.
Consequences can include display in the cockpit of "misleading" attitude, altitude, airspeed and engine operation data, says the FAA, or the aircraft could lose stall and overspeed warnings.
The common core system is the 787's "primary computing environment", processing avionics data and software applications, according to GE Aviation.
The aircraft's common data network lives within the core system and manages information flow between aircraft systems, according to Collins Aerospace documents.
Under the FAA order, airlines must comply with a Boeing service bulletin issued on 14 February that describes procedures for "repetitive cycle of the airplane electrical power".
"We identified a potential scenario in which 787 data transmission could be delayed after many days of continuous airplane power on," Boeing says, adding that on 16 January it "recommended mitigating action to 787 customers".
"A permanent fix will be issued in the coming months," Boeing says.
Story updated on 19 March to include comments from Boeing.