Finland's climate may be cold but the country's national carrier wanted to inject a feeling of warmth into its widebody cabins through the recent revamp of its Airbus A330 and A350 interiors, says Finnair head of customer experience and product design David Kondo.
Detailing the thinking behind the revamp during the Passenger Experience Conference on 13 June, Kondo described the A330s' previous cabins as "cold, clinical and sterile", which, he says, "contrasts with my experience of Finland".
A view of the setting sun during a flight into Helsinki inspired the changes made to the carrier's cabin lighting, which is designed to show "warmth, texture and personality", adds Kondo. While previously there were "lots of cold, harsh surfaces", inside the new cabins "almost every surface has texture or colour on it".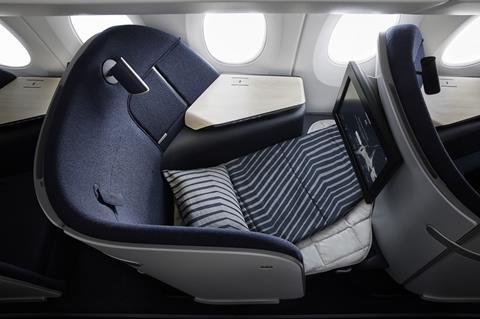 Finnair's appointed design partner, Tangerine, received a "very specific" brief from the airline about what it wanted from its new cabins, recalls the design agency's chief creative officer Matt Round. It wanted the interior of the aircraft to "feel like home" but to also feature a "clear brand identity at every touchpoint".
The airline's decision to equip its business-class cabins with Collins Aerospace's non-reclining AirLounge seats proved less controversial with passengers than Kondo had anticipated. The fixed contoured shell offers a variety of sitting and sleeping positions, the flattest of which uses infill panels to create a surface on which to lay a mattress.
Kondo says he had been "expecting a lot more hate" for what he describes as the "marmite" choice to install fixed-shell seats, but adds that feedback has been "very positive". However, while the lie-flat aspect of the seat offers a "fantastic sleeping position", Kondo believes the airline "still needs to work on" the "in-between" setting.
Round acknowledges that it was a "challenge" to create a fixed-shell seat with different positions, and says "a lot of work was done to get that right". He believes they "got to the best balance", noting that "while most positions are really good", things "can always be better".