HAECO's cabin solutions unit has launched a new stowage concept which will allow airlines to combine passengers and cargo in the main cabin.
The concept comes amid depressed passenger traffic due to the coronavirus outbreak, which has led to a growing number of carriers using passenger aircraft to fly freight only.
In all, HAECO is offering four different solutions, each with varying maximum load limits from 1,000 lbs (454kg) to 240 lbs. They range from a palletised variant, to a "seat and floor" storage version — which allows airlines to mount packages on the aircraft seats, or on the floor space in front of it.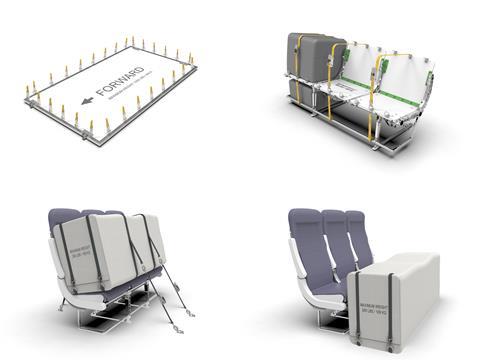 "These options give airlines specific load authorisations and the capability of carrying larger items in the cabin that otherwise would have been stored in the aircraft's belly, except for hazardous materials," the company states.
It also "[allows] airlines to carry cargo and passengers at the same time, optimising passenger and cargo yield, using packages to distance passengers, and maintaining proper weight and balance requirements", HAECO adds.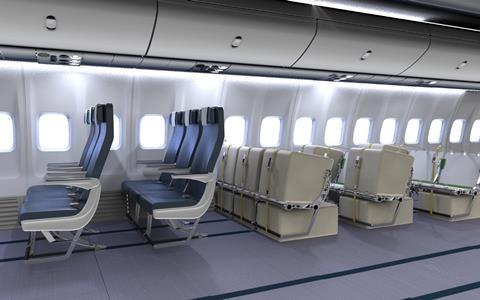 The solutions will be certified through a Supplemental Type Certificate in under a month, and can be delivered in four to six weeks, the company says.
They can be installed on both narrow- and widebody aircraft, with the installation process following techniques used for installing economy seating.
HAECO adds that it has seen interest from airlines for the concept, but did not specify which carriers they were.
Airlines such as Finnair and Air Canada have in recent days converted their passenger aircraft cabins to be able to carry freight, amid growing demand for cargo and medical supplies.