Hybrid Air Vehicles (HAV) has revealed passenger cabin concepts for its in-development Airlander 10 as it pushes the platform as a spacious, greener alternative to conventional airliners for short-haul city connections.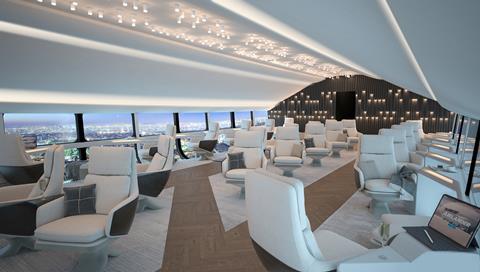 The designs include a 90-seat layout, with premium seating in conventional rows, with some rear-facing, and a 72-seat option, with individual chairs angled diagonally to the panoramic windows. The passenger cabin sits in a 46m x 6m (151ft x 20ft) gondola beneath the hull.
The hybrid aircraft's green credentials are based on the fact that, because its helium-filled hull and aerodynamic design provides much of the lift, its engines use much less fuel for propulsion. HAV is also working with Collins and the UK's Nottingham University to develop hybrid-electric engines by 2025 and fully electric versions by 2030.
The Bedford-based company claims that on a journey such as Liverpool to Belfast or Seattle to Vancouver, the 405nm (750km)-range, hybrid-electric Airlander 10 would contribute around a tenth of the carbon dioxide per passenger than a narrowbody jet.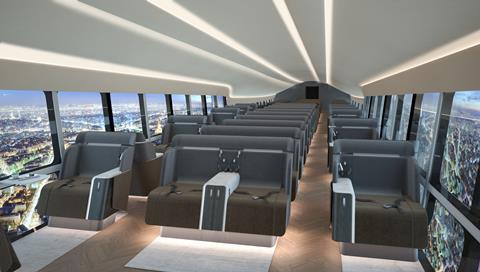 HAV, which is also pitching the Airlander 10 to the sightseeing, outsize cargo, search and rescue, and military surveillance markets, claims to have a customer for two examples, and says it is "close" to finalising a UK production site from "two advanced options".
The company, which abandoned an earlier flight test campaign after six sorties when a prototype suffered a second mishap in 2017, hopes to be building the 92m-long aircraft at the new factory next year, with first flight "at the back end of 2023". Service entry is slated for 2025.
"We are locking in our first adopters," says chief executive Tom Grundy. "We have our first couple of aircraft reserved with deposit paid."
Grundy believes the pandemic is causing the public to think about flying in a different way, with less emphasis on speed and more on environmental impact, comfort and personal space.
"The travel experience will be completely different, and the Airlander 10 offers spectacular views and a quiet, spacious cabin," he says. "We are a completely new category of aircraft."