Jamco is awaiting All Nippon Airways' decision on whether to modify lavatory doors on its aircraft for hands-free use, as the interior equipment manufacturer focuses attention on incremental, cost-effective passenger-experience improvements.
The company – based, like ANA, in Japan – has developed a new door handle and locking knob that enable passengers to open the door with their elbows, as part of a wider initiative dubbed Project Blue Sky, under which it seeks to boost hygiene in aircraft cabins and "alleviate passengers' anxiety" about air travel.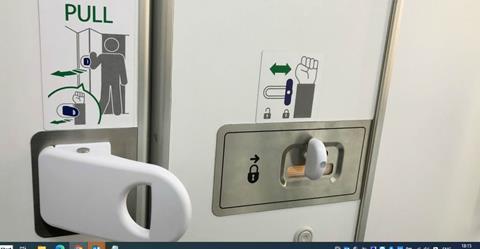 Robert Nakamoto, from Jamco's product innovation department, tells Cirium that the door handle and locking knob were recently demonstrated to ANA customers with a mock-up lavatory at the airline's lounge at Tokyo Haneda airport.
Noting the effort required to test and certificate new interior equipment – and the financial state of airlines amid the pandemic – Nakamoto says Jamco decided to concentrate first on comparatively minor "rapid-release solutions" that can be developed and implemented at "small financial cost", but that nonetheless make a noticeable difference to the passenger experience.
Jamco's engineers are working on other potential solutions – including cabin dividers and UV light for surface disinfection – and are also studying more radical interior changes in response to the pandemic.
However, the lavatory door modification proposal for ANA is the project closest to realisation, says Nakamoto.
"We would love to work with airlines and… get their ideas a lot more," he adds, noting that most operators expect to be presented with proposals and then to provide feedback. "It is a lot of idea generation at this stage and doing it on our own."
Nakamoto acknowledges that extensive cabin modifications are not a priority for carriers in the current environment. While Jamco has "a lot of fantastic relationships with airlines", many are taking a "wait-and-see" approach amid uncertainty as to how travel behaviour might develop.
Given the prospect that travel demand will remain subdued for longer without stimulation, cabin initiatives that improve onboard hygiene and safety could be a means of creating new passenger loyalty.
The pandemic will change travel habits and therefore aircraft cabins, Nakamoto expects: "It's going to be a new time… I don't know if we ever go back to how it was."
Jamco is studying new interior configurations with greater passenger separation as, Nakamoto suggests, acceptance of current cabin density might change and travellers could demand more privacy in future.
The company, which manufactures business-class seats, is evaluating the possibility of additional walls between seats. One proposal revealed in June envisioned transparent dividers between seat headrests and overhead bins.
As airlines have already adapted onboard services to reduce the infection risk between crew and passengers, galley requirements have changed and might affect future equipment design, Nakamoto adds.
One area of increased development activity at Jamco is how current interior materials could be replaced to improve onboard hygiene.
Antibacterial surfaces are becoming an additional requirement, joining those relating to weight, durability and cost. Nakamoto says Jamco has doubled in-house testing since the pandemic and has reached out to new material suppliers in an effort to make aircraft cabins "as clean as possible", noting that the Japanese company is "collaborating and talking to a lot of companies that we have never spoken to before… and the feedback I get is that they also got a lot enquiries from the airlines and aerospace industry".
There is no shortage of ideas for how aircraft cabins could change to fulfil new requirements brought on by the pandemic. The challenge is to introduce new solutions amid a low-demand environment and widespread uncertainty.
As Nakamoto puts it – citing government travel restrictions to curb Covid-19's spread – aviation's further development depends on factors "beyond our control"; hence the default position of "wait and see"…