The province is a global hub of the interiors sector, with two major tier one manufacturers and a mature and sophisticated supply chain
Hamburg – host city to AIX – is arguably Europe's aircraft interiors capital, with an impressive cluster of specialist firms. However, when it comes to punching above its weight in the sector, Northern Ireland runs it close. The province's 1.9 million population is just 3% of the UK's, but its industry produces half the nation's cabin furnishings output, and one in three of the world's aircraft seats.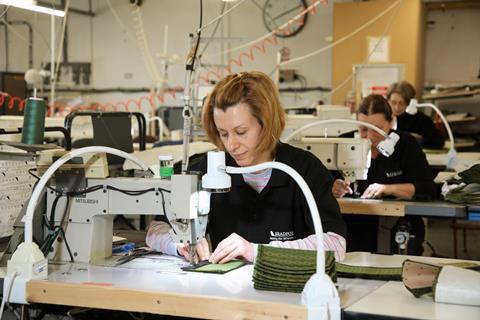 Two subsidiaries of international aerospace entities – Collins Aerospace's large seating plant in County Down and AVIC Cabin Systems unit Thompson Aero Seating – are Northern Ireland's biggest players in the sector. However, the province is also home to more than a dozen smaller, family owned enterprises, coupled with the odd start-up.
Northern Ireland's journey to becoming the world capital of airline seat production began in the late 1960s when Aircraft Furnishing established a factory in Kilkeel. US firm B/E Aerospace took over the business in 1993 before B/E was itself absorbed into Rockwell Collins, finally ending up part of Raytheon Technologies-owned Collins Aerospace in 2020.
Today, Collins is the biggest aerospace employer in Northern Ireland with a workforce in the small coastal town of around 800. The factory manufactures both economy and premium seats. Kilkeel and several sites in the USA make up Collins' seating business, with most of the company's distinctive business class products originating in Northern Ireland.
"Kilkeel is where we all started," says Patricia Clements, managing director of Bradfor, which makes upholstery and other seating coverings in nearby Rostrevor. She refers to how the growth of the seating business helped spawn a tier of small and medium enterprises (SMEs) such as her own family company, founded in 1996 and which now employs around 75 people.
Those firms did not emerge from a void. Ulster had a long and proud textile tradition based on linen production. Although the industry was dying long before Aircraft Furnishing's arrival, the heritage – Clements herself trained as a seamstress – meant the province had a ready-made local skills and supplier base. In time, other companies emerged, specialising in the likes of composite mouldings.
Northern Ireland gained a second seat-maker in the 2000s, when Thompson set up in Portadown, with BMI, Jet Blue and Qantas among the early customers for its Vantage family of premium seats. With almost 15,000 of its first, business and premium economy seats now in service, Thompson, which has a second site in Banbridge, is one of the major players in this part of the market.
Thompson "soft launched" its latest Vantage variant, the VantageDuo, at last year's AIX. A "fixed-shell" recliner rather than a lie-flat product, aimed largely at the medium-haul narrowbody market, it offers a 130-degree recline, compared with the norm of 110 degrees. Although it does not yet have a launch customer, "a number of airlines are quite excited by it".
Thompson is also showing at Hamburg an updated, lower-pitch version of its VantageSolo, after JetBlue debuted the original design on its Airbus A321neos in 2021. While much of the company's success since the pandemic has been in the narrowbody market, it says there is "renewed interest" from operators in its widebody-specific products, such as the VantageXL.
Northern Ireland is home to other, even younger seating fledglings. They include design house Butterfly Engineering, which began in Hong Kong but has a design centre in Belfast's Titanic Quarter. It is working to find a launch customer for its narrowbody design, the unique selling of point of which is its ability to transform from a longer-haul lie-flat to a regional recliner, says the company.
Causeway Aero is another growing player in the interiors market, whose portfolio now also includes seating. Originally established in 2015 as an attempt by the owners of two local SMEs, Moyola and Denroy, as well as government agency Invest Northern Ireland to establish a tier-two cabin systems and aerostructures integrator in the province, its role has morphed somewhat since then.
Today, under its new chief executive and major shareholder Michael Rice, Causeway specialises in composite cabin components and managing interior refurbishments, having acquired an engineering consultancy that had been one of its suppliers. In fact, since he took over in 2018, Causeway has been on an investment spree.
In 2021, the company snapped up Pitch Aircraft Seating, based in Redditch in the English Midlands, another start-up that two years earlier had contracted Causeway to certificate and assemble its PF3000 lightweight, fixed-back economy seat at its Lisburn factory. That came after Pitch won its first contract, to retrofit three A320s for Israeli leisure airline Israir.
Although Rice said then that Pitch "completes Causeway's nose to tail aero interiors capability", his main aim is to position Causeway as a specialist in cabin refurbishments. "I really want to drive that part of the business," he says. "Too many associate us just with Pitch." Lessors over the border in Dublin are potential customers. "We want to be their one-stop shop for lease transitions," he says.
Last year, the company also announced Britten-Norman, manufacturer of the nine-seat Islander piston aircraft, as launch customer for lightweight semi-flexible laminate panels that it says can offer an up to 25% weight saving by replacing bulky insulating blankets as part of a "minor" supplemental type certificate (STC) overhaul.
Northern Ireland's other SMEs specialising in interiors include Newry's Exact Group, which produces, among other items, build-to-print composite and metal components for aircraft interiors, as well as for satellites and the power generation and medical sectors. It claims its stock in trade is reactive build-to-print contracts – "rapid response – usually within one day, sometimes within one hour".
Another notable lower-tier manufacturer is Belfast-based IPC Mouldings, which specialises in injection-moulded parts and assemblies. It employs 40 people, with 85% of its turnover coming from the aerospace sector. Its components are on products such as Finnair's distinctive AirLounge business class seat from Collins.
Collaboration among non-competing SMEs is something Invest Northern Ireland is keen to foster as it promotes the idea, at AIX and beyond, of a cabin furnishings ecosystem in the province. For the firms themselves, it gives them the chance to shift up the value chain by offering a systems solution to a potential customer, rather than simply a collection of components and services.
"All of us are ultimately competing against low-cost countries, so we've got to go one better," says Joanne Liddle, managing director of IPC. "What we can do is offer a better understanding of the customer. A local supply chain also means a lower manufacturing carbon footprint and less risk on logistics, as Covid showed."
Bradfor's Clements agrees. "We bounce ideas of each other," she says. "We don't compete so we are able to share knowledge, and pre-Hamburg we've been meeting monthly. We've worked on various technical problems that we couldn't have solved on our own."