Raytheon Technologies has launched a project to advance hybrid-electric propulsion technologies, while also progressing with development of a 1MW motor to be installed on a hybrid-modified De Havilland Canada turboprop.
The company's subsidiary Collins Aerospace recently completed a preliminary design review of the 1MW motor, Collins says on 18 July.
It is displaying the motor this week at the Farnborough air show.
That project is not new. But the separate hybrid-electric development programme – disclosed on 18 July and called the Scalable Turboelectric Powertrain Technology (STEP-Tech) demonstrator – is.
Collins and fellow Raytheon subsidiary Pratt & Whitney are leading STEP-Tech from Raytheon's site in East Hartford, Connecticut.
With both projects, Raytheon seeks to reduce the aerospace industry's carbon output. Executives say hybrid propulsion could first power turboprops and then narrowbody passenger jets. By 2035, Raytheon aims to launch a hybrid-electric version of P&W's geared-turbofan engine – with 25% efficiency gains, it says.
"The STEP-Tech demonstrator… will focus on developing high-voltage distributed turbo-electric hybrid-electric propulsion concepts in the 100-500kW-class, with potential to scale to 1MW and beyond", the companies say. "The demonstrator platform will include full end-to-end system capabilities, including a high-efficiency turbo-generator, energy storage, power electronics and modular electrically driven propulsors."
The demonstrator will not be an actual aircraft. It instead will help mature technology potentially applicable to electric vertical and take-off and landing (eVTOL) aircraft, unmanned aerial vehicles and "small- to medium-sized commercial air transporters", say Collins and P&W.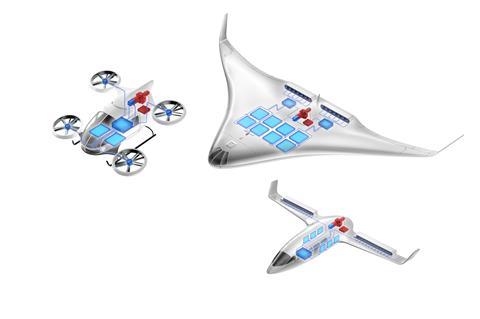 The companies this year completed "proof of concept studies" and intend to begin STEP-Tech ground testing in late 2022.
Separately, Collins completed the design review of its 1MW motor and a motor controller, and "has tested both systems to full current, voltage and speed", it says.
Collins is developing the motor in the UK city of Solihull, and testing it at the University of Nottingham's Institute for Aerospace Technology.
The motor is to compose a hybrid-electric system intended to power a Dash 8-100 turboprop. Collins intends this year to ship the motor to Pratt & Whitney Canada (P&WC), which is leading the Dash 8 modification project. Other partners include De Havilland and Swiss battery maker H55.
P&W and Collins revealed the modification effort in 2019 and, previously, aimed for the hybrid Dash 8 to make first flight in 2022. The timeline slipped amid the pandemic.
Now, Collins pegs that milestone for 2024, with flight tests happening in Montreal. Ground tests are to start this year.
The partners plan to mate Collins' 1MW motor with a 1MW fuel-burning engine supplied by P&WC, creating a 2MW hybrid system. They will replace one of the Dash 8's two PW100 turboprops with that system.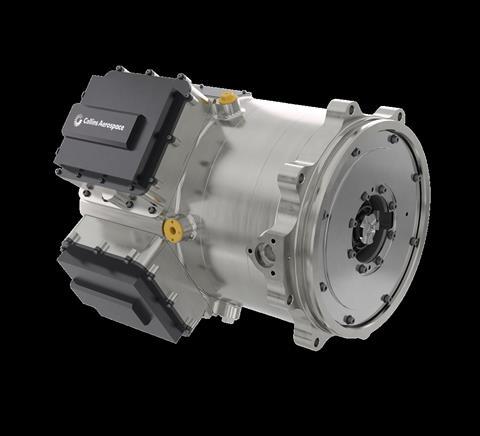 "The electric motor will provide extra power during take-off and climb, allowing the fuel-burning engine to be optimised for cruise efficiency," Collins say.
"We can operate this propulsion system either on the motor generator, or the thermal engine, or both," says P&W vice-president of propulsion and material technologies Frank Preli.
Such technology could improve turboprop efficiency by 30% and be in service around the mid-2030s.
Collins will continue advancing its electric-motor work at a Rockford, Illinois lab it calls "The Grid", which will be fully operating in 2023, says Collins vice-president of engineering for power controls Bill Dolan.
Collins previously said The Grid would open in 2020.
Longer term, the Raytheon companies intend to mate a 1MW motor to a variant of the PW1100G turbofan, which powers Airbus A320neo-family jets, says Preli.
With such a configuration, the electric system would generate only about 5% of combined system's power – not half, as with the turboprop, Preli adds. "Even at this mild level, it makes a lot of sense… The architectural can grow and evolve as energy storage evolves."
A hybrid-electric turboprop as feasible in the next decade but a hybrid-electric turbofan will require more time, Preli says. "There's a tremendous amount of work to do."