Raytheon Technologies has disclosed plans to reorganise its business into three divisions, consolidating its two defence-focused units into a single business, and has named Christopher Calio as its next president.
Calio, now Raytheon's chief operating officer (COO), will take on the added role of president on 1 March and will oversee the organisational realignment, Raytheon said on 24 January.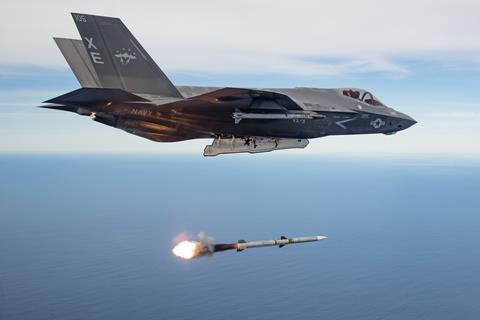 Raytheon chief executive Gregory Hayes is now also president. He will give up that job but remain CEO.
The company says Calio will oversee a reorganisation under which it will shift from having four to three business units.
The company's existing four business divisions include Collins Aerospace, Pratt & Whitney (P&W), Raytheon Intelligence & Space and Raytheon Missiles & Defense.
The change will see Raytheon combine its Intelligence & Space and Missiles & Defense divisions into a new business unit called simply "Raytheon".
Those two operations primarily sell defence-related equipment, including precision-guided munitions and advanced sensors found on combat aircraft.
When complete, Raytheon's three businesses will be Collins, P&W and Raytheon.
"The company plans to implement the reorganisation during the second half of 2023 and will provide additional updates on its progress over the coming months," Raytheon says.
The realignment will help "generate additional revenue and technology synergies", it adds.
Raytheon's board of directors voted on 23 January to shift the president's role to Calio. It also voted to increase Calio's annual base salary to $1 million from $900,000, and agreed to grant Calio "a long-term incentive" worth an estimated $10 million, Raytheon says in securities filings released on 24 January. That award is composed of "performance share units" and "stock appreciation rights".
Calio has been Raytheon's COO since March 2022. Prior to that he was president of P&W.