The once fast-moving interiors sector, which relies on fleet renewals and refits, has been forced to a standstill by widespread aircraft grounding and order deferrals.
However, several cabin equipment suppliers sense an opportunity for products that improve onboard hygiene and social distancing as passengers return to the skies.
Among them is Safran, which is today announcing a partnership with Universal Movement to market a retrofit kit from the UK seating designer that creates partitions around economy-class seats by leaving the middle seat of three vacant.
The concave padded shells, which are the same height as the seat, can be installed on 90% of economy seats, says Safran, and provide a degree of privacy as well as protection.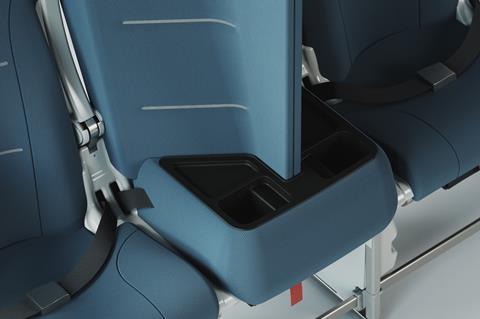 The Interspace Lite product is part of an Interspace family that also includes a retrofittable premium-economy design with padded wings that fold out from the seat back, unveiled by Universal Movement in December. Safran hopes to have the Lite product on the market in the next few months, with the premium-economy concept available later in the year, says Safran Seats executive vice-president strategy and innovation Quentin Munier.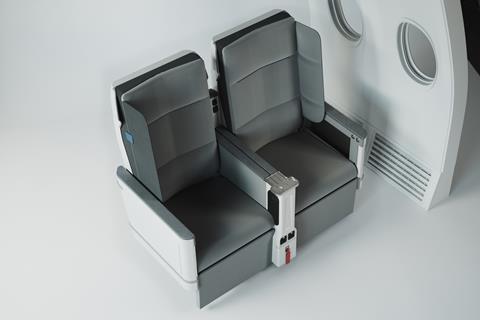 The partnership with Universal Movement is part of a suite of innovations the French company – which moved into the interiors market when it acquired Zodiac in 2018 – plans for the post-Covid-19 environment under the Travel Safe brand. They include Ringfence, a removable partition that isolates neighbouring passengers, a pedal that allows travellers to recline their backrest without using their fingers, and virus-proof coatings for armrests and tray tables.
Luke Miles, a former head of design for Virgin Atlantic, who set up Universal Movement last year, says he chose to work with Safran because of the latter's "shared vision about changing the experience of flight" and "ability to scale up production".
Although conceived before the crisis with an emphasis on personal privacy rather than health protection, he adds that the Interspace products "could allow airlines to get back on their feet much sooner than if standard aircraft seating were to remain the same".
Munier says Safran had been talking to Universal Movement for some time before the Covid-19 outbreak and had originally planned to announce the seating products at the Aircraft Interiors Expo in Hamburg in April, which was cancelled.
However, he believes that recovery from the Covid-19 crisis will spur airlines to think differently about their cabins. "Although the industry has been hit badly, we foresee a lot of upgrade and retrofit activity. The post-Covid environment will create new needs, and new opportunities," he says.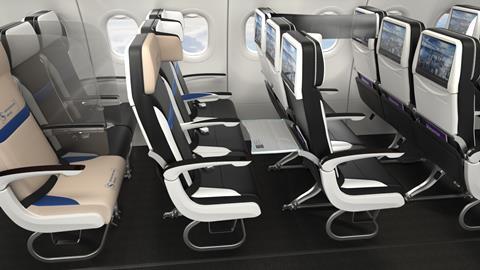 Other companies have also come up with ideas to help passengers feel safe again once coronavirus restrictions are removed. Italian seating firm Avio Interiors unveiled in April its Janus concept, which sees the centre seat in a row of three reversed to increase the perception of individual space, with a clear plastic screen to provide further protection.
Californian LED lighting specialist Aveo Engineering says its Veolite product uses "wavelengths of light that target and destroy viruses". Chief executive Rick Lindstrom says the method is easier and more cost-effective than traditional spray sanitising methods, and is not new, having been "around for decades" in laboratories and pharmaceutical manufacturing. It uses the "same type of natural disinfecting rays provided by the sun".