German seat manufacturer Zim Flugsitz has filed for debtor-in-possession insolvency proceedings, citing a "persistent and considerable decline in sales since the start of the coronavirus pandemic".
Munich-based restructuring specialist Pluta, which has been appointed to lead the process, says the intent is to "reposition" Zim in order to keep it in business.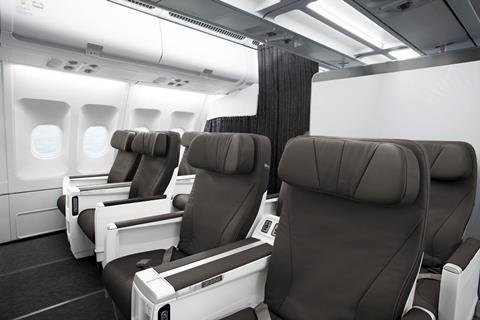 Zim will remain "fully operational" while its management teams stays "in charge" and "carries out the restructuring itself under the supervision of the court and an insolvency monitor", says Pluta.
Under the current, provisional insolvency proceedings – set to last two to three months – Pluta and Zim will draw up a strategy in co-operation with creditors with a view to turning around the business during the main insolvency proceedings.
Pluta restructuring expert Jochen Gluck – appointed as Zim's chief restructuring officer – describes the situation as "not easy". But he says the company is "known for its high-quality products", and that there is "an opportunity to put the business on a viable footing".
He adds: "We will review each process together with all stakeholders and adjust them in line with the changed situation."
Headquartered in Markdorf – near Lake Constance, close to the border with Switzerland – Zim employs more than 200 employees between that site and a second, more recent production facility in Schwerin, in the north of what was formerly East Germany.
Staff salaries are "guaranteed" under the applicable German insolvency law. However, Pluta notes that "both plants work independently of each other and have their own design, administration and production teams".
Zim designs and produces economy, premium-economy and business seats for line- and retrofit, and enjoyed "strong sales growth in recent years" particularly for premium seats, Pluta says.
In March, Munich-based investment firm Aurelius Equity Opportunities disclosed that it had acquired a majority shareholding in Zim from its founding family, Angelika and Peter Zimmerman.
The couple would "continue to be invested in the company and serve its management", Aurelius said at the time.
Angelika and Peter Zimmerman started the seat business in 2008. Previously, the company, which had been founded by the couple in 1995, concentrated on aircraft structural engineering services, its website indicates.
The plant in Schwerin – about an hour's drive from Airbus's Hamburg assembly line – opened in 2017.
Noting that the "entire aviation industry is experiencing an unprecedented slump due to the coronavirus pandemic", Zim managing director Heiko Fricke states: "The months ahead will be very challenging for our company. However, I'm convinced that we will overcome this crisis under the protection afforded by debtor-in-possession proceedings."