Following its debut last year, seating's newest name Unum has returned to AIX to unveil a second version of its business-class product, as it prepares to step up from development phase to production.
The business – which in August will move from a studio in Weybridge, Surrey into a factory near London Gatwick airport – is in the final stages of regulatory approval for its herringbone-configuration Unum One and the latest, forward-facing Unum Two.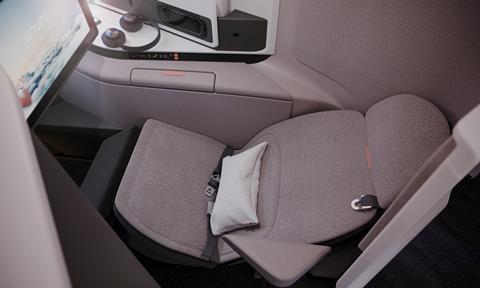 In February the start-up – founded three years ago by former Acro boss Chris Brady – secured fresh investment from Origin Capital and the Low Carbon Innovation Fund 2. While he will not disclose the amount, Brady says it is enough to finance Unum through the first stages of manufacturing. Speaking ahead of last year's AIX, Brady admitted he needed £4 million ($5 million) on top of £1 million already raised to begin production.
Unum's latest launch is based on the same architecture as the 21.5in (546mm)-wide, lie-flat Unum One it unveiled at last year's AIX. However, instead of a diagonal, or outward-facing herringbone layout, Unum Two is based on a staggered, forward-facing configuration, that also gives passengers direct aisle access. Both products use a patented "Scimitar" seat-track recline mechanism, allowing a zero-gravity seating position.
With lie-flat seats now ubiquitous on twin-aisle aircraft, Brady says the two products will allow it to cater for the entire market. "Herringbone probably covers 65% of the installed fleet, but staggered, forward-facing is still popular with many airlines," he says. Unum is showing five seats in total at Hamburg. Along with the Unum Two, there are four variants of the Unum One: centre and window seats for widebodies, a version for narrowbodies, and a higher-density design.
Brady is aware that setting up to compete with long established giants of the industry, such as Collins, Recaro, Safran and Airbus-owned Stelia, comes with challenges. However, he believes prospects for the business-class market are strong, despite it still being in post-pandemic recovery. "There has been a huge uptick in cabin spend by airlines, and business-class yields are at near record levels," he say. "We have a lot of confidence in the long-term future of business-class."
He admits that while Unum's seats weigh less than many rival offerings on the market, the design itself is not revolutionary. Instead, Unum plans to position itself as a manufacturer of reliable and comfortable seats that can offer "short lead times and attractive prices". At a time when delays in the delivery of seats has caused OEMs to pause aircraft deliveries, this could be a major advantage, believes Brady.
Not that Unum will be seeking major line-fit orders. Although it has yet to announce a customer, the company will focus on the retrofit market and on secondary airlines who may feel overlooked by some of the larger seating manufacturers. He says that producing 50 seats a month "would be a comfortable level for us" over the first 10 years of business. "There are enough airlines who are unhappy with their current vendor to support that," he says.
Unum has had its share of hurdles during its first three years. Set up by Brady and a handful of former colleagues after a non-compete period with the new Chinese owners of his previous firm Acro ended in 2019, the business had barely got off the ground when Covid-19 hit. Then the UK's exit from the European Union – after a transition period following the 2016 vote – meant the Civil Aviation Authority took over the regulatory role of the European Union Aviation Safety Agency.
This, says Brady, slowed the process of getting the seats to market. Despite a CAA pledge to be exporter friendly and Unum contacting the agency in October 2021 to explain its aim to certificate a family of business-class seats, months went by without a response. After asking for a progress report in November last year, the CAA told Unum in April that it still did not have an exact date for adopting standards that would allow the company to certificate its products in the UK.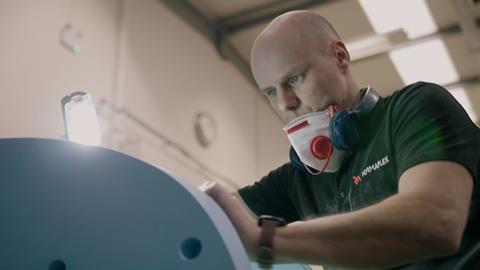 In spite of this, Brady is confident that both seats will receive approvals before the end of the year, and, with an audited supply chain now in place, he feels ready to move into the 1,400sq m (15,000sq ft) factory on Crawley's Manor Royal industrial estate, and begin recruiting a larger team. He expects some to be former Acro employees who remained in the area after that company's new owners relocated the business to Northamptonshire.
While that first customer has still to emerge, Brady expects airlines visiting AIX to show plenty of interest in the Unum seats. While at last year's AIX the company was still very much in start-up mode, displaying a concept and talking up its ambitions, this time its stand will have "seats you can actually sit in". Equally importantly, with finance and a factory in place, and approvals pending, the company, says Brady, is now ready to deliver.