SITA for Aircraft chief executive Yann Cabaret believes momentum is increasing for in-flight cellular services as developments both on the ground and in the air close the gap between the respective experiences for the user.
Speaking to FlightGlobal during the Aircraft Interiors Expo in Hamburg, Cabaret – who moved into the role in April – points to the size of opportunity to develop cellular to drive connectivity.
"We have been with Panasonic promoting the use of cellular onboard, not just Wi-Fi, but the ability to use your phone, because then you get to a very easy access to the network, no authentication, you just use your phone."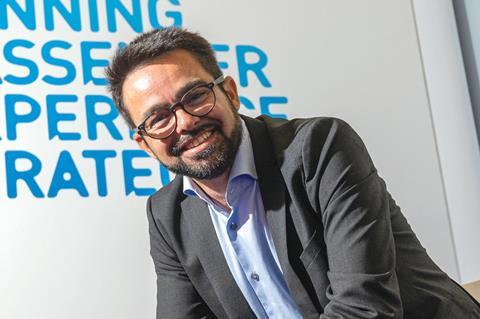 SITA currently has around 600 aircraft equipped with its cellular connectivity solution, but the next step is its 4G mobile product – which will close the gap in speed with the ground experience.
"It is here and ready. It is waiting for a launch airline and we are in discussions with existing customers and new customers," says Cabaret, adding that 2023 is a "reasonable timeline" to see it in commercial service.
"We can get much closer to what is the experience from the ground on the aircraft with cellular than what you will have on Wi-Fi," he says, noting that as a result it is easier to manage customer expectations and perceptions with cellular. "The management of customer expectations has always been the biggest challenge of the industry and always will be."
However Cabaret believes expansion of cellular use in-flight does not mean a negative effect on Wi-Fi demand onboard. "What we have seen is you generate more Wi-Fi penetration when you have cellular," he says, noting, "the more people have their phone in their hands, and the more they use their phone" onboard, the more likely they are to connect a laptop to the Wi-Fi to do other things.