Aircraft component maker Spirit AeroSystems' net income slipped 14% year-on-year in 2019 to $530 million, reflecting Boeing 737 Max issues, booked losses related to a 787 production rate cut and a decline in margins from Airbus A350 components.
The Wichita-based company's fourth quarter 2019 net profit sank 62% year-on-year to $67.7 million.
Spirit did not publish 2020 guidance.
But the company says its agreement with Boeing calls for it to restart 737 Max fuselage production in March and to ramp production to a rate of 52 fuselages monthly (Boeing's pre-Max-grounding rate) by 2022.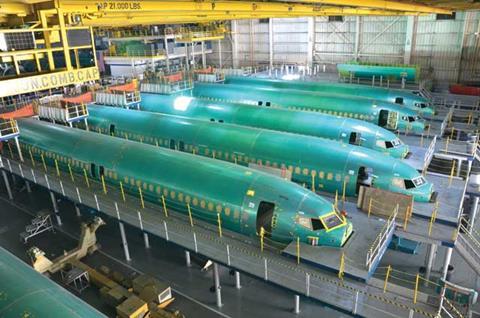 Spirit chief executive Tom Gentile notes Spirit has responded to the 737 Max difficulties by laying off 3,200 employees – including 2,800 in Wichita and 400 in Oklahoma. The layoffs represent about 28% of Spirit's pre-layoff, 18,000-strong workforce.
The company has suspended 737 Max fuselage production.
Gentile says Spirit remains a "proud partner on the Max programme" and remains committed to helping Boeing ensure the jet's "long-term success".
Spirit's 2020 revenue jumped 8.9% year-over-year in 2019 to $7.9 billion, which the company says reflects an increase in 777, 787 and A350 component production volume. But selling costs surged 11% to $6.8 billion in the year.
Earlier this month, Spirit and Boeing reworked an April 2019 agreement related to Spirit's 737 Max fuselage production. The new deal calls for Boeing to pay Spirit $225 million in the first quarter, including $70 million for "support of Spirit's inventory and production stabilisation" and $155 million in pre-payed fuselage costs, Spirit says. In addition, the agreement pushed out Spirit's repayment to Boeing of a $123 million loan to 2022.
The deal also set at 216 the number of Max fuselages Spirit will manufacture for Boeing in 2020 – equating to an 18-per-month rate.
Spirit in December 2019 announced it would suspend 737 Max fuselage production on 1 January in response to Boeing's decision to suspend its production. Spirit said 737 work generates more than 50% of its revenue. The company subsequently announced the layoffs.
In January, Boeing said it will reduce 787 output to 10 aircraft monthly by early 2021, down from 14 monthly.
Also in January, Spirit purchased Biddeford, Maine-based Fiber Materials, a company that makes defense-industry-related composites and high-temperature materials, for $120 million. Spirit says the deal helps it diversify more into the defense business.
Spirit is also working to close the purchase of Bombardier's aerospace and aftermarket business for $500 million.
With the deal, Spirit would acquire Bombardier's aerospace manufacturing sites in Belfast (Northern Ireland) and Casablanca (Morocco), and maintenance work in Dallas.
The Belfast site manufactures A220 wings and the Global 7500 business jet's composite horizontal stabilisers, plus other components. The Morocco site makes components for CRJs, Learjets, Challengers and Globals, Bombardier says.
Spirit is also working through a deal to acquire Belgium aircraft component shop Asco.