Autonomous technology company Merlin has big plans to demonstrate its autonomous flight control system on a modified Cessna 208B Grand Caravan in the coming months in Alaska.
The Boston-based start-up says it landed a $1 million contact from the Federal Aviation Administration to complete the tests, which are intended to evaluate the "Merlin Pilot" technology, and to identify needed improvements.
"These initial flight trials are vital to maturing our in-flight capabilities," says Merlin chief executive Matthew George. "We have conducted hundreds of missions with our Merlin Pilot on five aircraft types from our dedicated flight test facility in Mojave, California."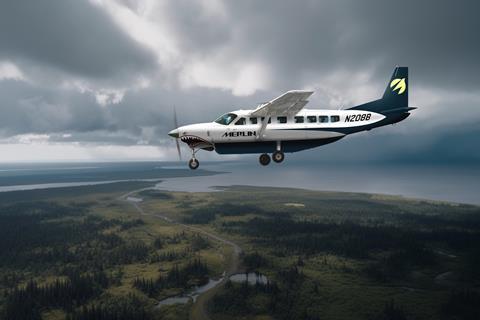 The flight-test programme will start before mid-year and involve flights from Fairbanks to five Alaskan destinations: Fort Yukon, Galena, Prudhoe Bay, Huslia and Tanana, Merlin says.
Though the Grand Caravan will be equipped with autonomous technologies, human pilots will ride along, tasked with monitoring the "experimental flight control system". The flights will not carry revenue passengers or cargo.
Merlin will conduct the flights using its aircraft (registration N208B) and pilots but partnered with local airline Everts Air Cargo, which will provide consulting, to "ensure we are operating as they would operate", George tells FlightGlobal.
Neither the FAA nor Everts responded to requests for comment.
Another partner in the project is the University of Alaska Fairbanks, which operates a local unmanned aircraft systems test site.
George declines to say how many flights Merlin might operate as part of the demonstration programme but says the effort will continue through most of the northern hemisphere summer.
Merlin is not alone in developing autonomous flight control systems. Various air taxi developers are working on such technology. Another player, California-based Xwing, says it has autonomously flown a Grand Caravan and landed NASA and FAA demonstration and development contracts.
George founded Merlin in 2018 with the goal of transforming how aircraft operate, by developing "drop in autonomy kits" that can be used to assist human pilots, he says.
The company has backing from Google Ventures. In addition to Boston, it has operations in Denver and Los Angeles, and a flight-test site in Mojave.
Merlin's team includes chief technology officer Alex Naiman, a former Airbus engineer who helped lead that company's Wayfinder project, which involved equipping an A350 with autonomous technology. Merlin's chief policy officer Travis Mason previously worked at Airbus and Google.
George insists Merlin does not envision entirely autonomous aircraft, but rather views its technology as assisting human pilots.
"We believe that un-crewed flight is not the way… We think that there always needs to be a human pilot" – at least in the near-term, he says.
Human pilots must be available to handle the complex, unexpected factors inherent to flight, he adds.
Merlin has tested its system in five aircraft types: a Grand Caravan, a Beechcraft King Air, a De Havilland Canada Twin Otter and two types made by Rutan Aircraft: a LongEZ and a Cozy.
George says Merlin Pilot controls aircraft via a network of servos and actuators. It is designed to operate from take-off to touchdown and incorporates features intended to assist with communication with air traffic controllers and with navigation.
He declines to specify a timeline for certification and service entry of Merlin's autonomous technology, but says, "We are starting to see autonomy come out of the test ranges and into the real world".
Merlin in July 2022 said it had raised $105 million in funding. The company is also working with the US Air Force to develop autonomy for Lockheed Martin C-130s, and has an agreement to outfit US cargo carrier Ameriflight's aircraft with such technology.