The Trump administration's decision to modify its adherence to the Missile Technology Control Regime (MTCR) is positive for American manufacturers of large unmanned air vehicles (UAVs), but comes after much ground has already been ceded to China.
From the perspective of US defence firms, the MTCR is perhaps the most vexing of international agreements. An informal pact among 35 countries that originated in 1987, it is intended to prevent the proliferation of weapons of mass destruction through exports of delivery systems.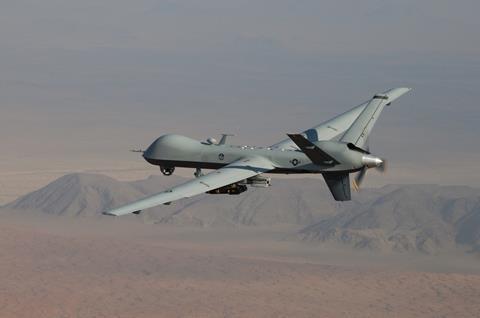 Conceived with missiles in mind, the MTCR has restricted adherents, particularly the USA, from exporting higher-end UAV systems. On 24 July, the White House announced changes to how the USA will operate under the agreement, effectively removing a major restriction on UAV exports to non-MTCR countries.
"Not only do these outdated standards give an unfair advantage to countries outside of the MTCR and hurt United States industry, they also hinder our deterrence capability abroad by handicapping our partners and allies with subpar technology," says a White House statement.
"More than two years of discussion with MTCR partners were unable to produce consensus on this overdue reform. Therefore, the President has decided to invoke our national discretion to treat a carefully selected subset of MTCR Category I UAVs, which cannot travel faster than [430kt] 800km/h, as Category II. As such, the United States has determined that it will overcome the MTCR's strong presumption of denial for this subset."
The key beneficiaries of the change will be General Atomics Aeronautical Systems, maker of the MQ-9 Reaper, and possibly Northrop Grumman, which builds the RQ-4 Global Hawk family. The MQ-9's maximum speed is just under 260kt, and the RQ-4's around 340kt.
Both General Atomics and Northrop Grumman offered upbeat assessments on the situation:
"We welcome the changes announced that will alter the treatment of General Atomics' UAVs under US export policy," says the company. "We look forward to this announcement leading to approvals for sales to a larger portion of the international market."
"Northrop Grumman welcomes the policy changes announced by the US government regarding the export of Unmanned Aerial Systems, such as the Fire Scout system. It is critical for our national security that our export policies continue to keep pace with the rapid evolution of technology and support collaboration with our allies."
There is consensus that the primary beneficiary of Washington's strict adherence to MTCR has been Beijing, which is not part of the agreement. Exemplifying this is the biennial Airshow China event in Zhuhai, perhaps the world's biggest bazaar of UAV technology. It offers a dizzying array of medium-altitude, long-endurance (MALE) and high-altitude, long-endurance (HALE) systems – and sees plenty of attendance from developing nations. China has also promoted its UAVs, for example the AVIC Wing Loong II, at air shows globally.
According to the Stockholm International Peace Research Institute, recipients of armed Chinese UAVs include Algeria, Egypt, Indonesia, Iraq, Jordan, Kazakhstan, Myanmar, Nigeria, Pakistan, Saudi Arabia, Sudan, and the United Arab Emirates. Several of these countries have long operated advanced US combat aircraft and weapons, yet were denied access to American UAV systems.
SIPRI arms flow numbers suggest that from 2008 to 2018, China exported 194 large, weapons-capable UAVs to 14 countries, while General Atomics and Northrop Grumman delivered just 22 large UAVs to international customers – 19 MQ-9s and three RQ-4As.
Qualitatively, Chinese systems are understood to be inferior to their US counterparts, although they come at a much lower price point and with no political strings attached. Perhaps reflecting the quality of Chinese systems, in 2019 Jordan announced that it wanted to sell six recently-delivered Rainbow CH-4 UAVs built by China Aerospace Science and Technology Corporation.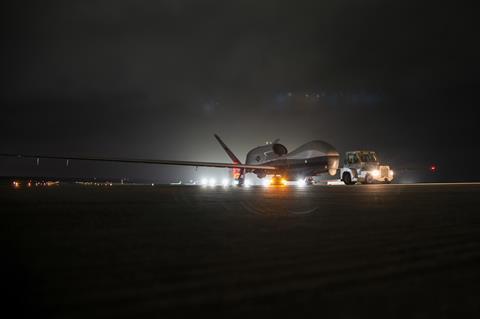 Teal Group analysts Joel Johnson and Philip Finnegan see the White House's decision as a move in the right direction.
Johnson contends that the US government had a tendency not to take foreign UAV capabilities seriously – until, that was, international customers started obtaining those systems. He believes that MTCR-derived definitions of UAVs have resulted in lost opportunities in recent years.
"Generally we have to lose a piece of the market, and controllers have to argue with each other for two or three years, before we get a change in the regulations," says Johnson.
As for Finnegan, he says the MTCR shift is especially important for overseas sales of both HALE and MALE UAVs.
"The strict interpretation that the United States has taken on the MTCR meant that a number of key allies such as Saudi Arabia and the United Arab Emirates were forced to buy Chinese MALE systems," he says.
"The main beneficiary will be General Atomics. General Atomics tried to compete by offering a MTCR-compliant Predator, the Predator XP, but that was only purchased in very limited numbers by the UAE and never took off in the market. Now General Atomics will be able to compete more effectively without limiting the performance of its systems."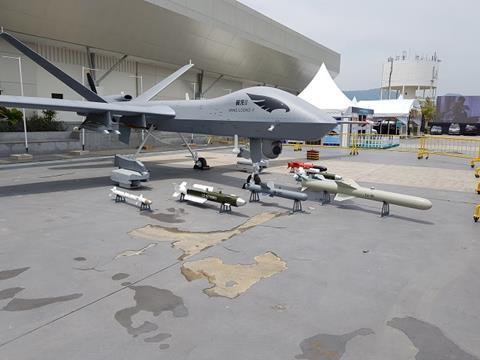 In June, the Mitchell Institute for Aerospace Studies issued a report calling for changes in UAV export policy, spelling out several disadvantages from over-compliance with MTCR.
In addition to benefiting Chinese UAV manufacturers and hurting American companies such as General Atomics, it contends that US adherence hurts relationships with allies, harms coalition capability, and creates operational risks as Washington's allies turn to China.
"Not a member of the MTCR, China is using this market vacuum to expand its influence, gain an intelligence advantage, and compromise US security partnerships," it says.
In addition, the report contended that the long life of UAV systems would allow China to build important, long-term defence relationships with countries that are traditional US allies. It even suggests that the Trump administration's decision to reclassify certain UAVs as Category II systems may not go far enough.
"The United States should work to create a consensus to remove UAVs from the MTCR and place UAVs under export restrictions structured for combat aircraft, whether the UAVs are remotely piloted, semi-autonomous, or autonomous," it says.
Story updated to include a comment from Northrop Grumman

Greg Waldron is the Asia Managing Editor of FlightGlobal, responsible for the team's airline, aerospace, and defence coverage across the region. He has worked at the company since 2009. In the airline space, Waldron has conducted dozens of interviews with airline leaders in the Asia-Pacific. He also covers areas such as MRO and safety. On the defence beat, Waldron has written extensively about the rise of Chinese airpower, as well as broader airpower developments around the region, such as indigenous fighter programmes, and regional acquisitions of foreign equipment. In addition, Waldron writes about commercial helicopters in the region and business aviation. Waldron worked has a freelance journalist with his work appearing in several business publications.
View full Profile