Turkish Airlines expects to announce its major order for 600 aircraft "soon" after receiving revised proposals from the OEMs and studying options around engines following supply issues.
The Star Alliance carrier plans to order 400 narrowbodies and 200 widebodies as it looks to double its fleet to more than 800 aircraft over the next decade. It had originally indicated a selection could be announced in June, but pushed back its decision – in part because of the run-off in national elections which delayed the result by two weeks.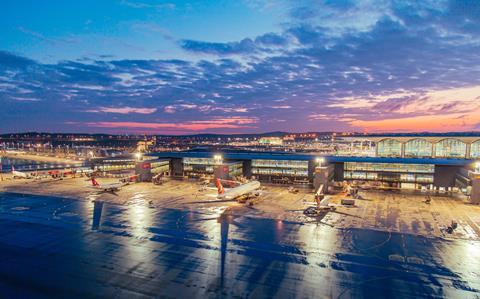 Asked about the status of the order during a second-quarter results call on 10 August, Turkish Airlines chief financial officer Murat Seker acknowledged the challenge of securing delivery slots given the large order backlogs at both Airbus and Boeing.
"This is a very large scale of order and given the close relationship Turkish Airlines has with the both the OEMs, we are working closely [with them] and we have got the revised proposals," he says.
Seker adds: "But of course there the engines are playing a key role. So while we are trying to decide on which aircraft type to [order], we are also very closely investigating which engine types to get and which type of maintenance contracts to get in addition.
"That is the reason why we have not announced any decision yet. But it's not going to take too much further time. Soon, we will be able to announce the result of this tender."
Turkish Airlines finished the three months to 30 June with 419 aircraft and expects its fleet to reach 435 by year-end. Seker says the airline has another 78 aircraft due for delivery, mostly Airbus A320neos, but also including more A350s and Boeing 787s.
"Going forward our intention is to grow the capacity in terms of ASKs by about 7-10% year on year over the next five years. So we will try to accommodate the necessary aircraft through operating leases if we cannot get a new contract with the OEMs."
Noting it is difficult to give precise fleet development numbers until its new orders are finalised, Seker expects the fleet to end 2024 in the region of 460-470 aircraft. "Then in 2025 to [reach] roughly 500 aircraft and to reach a fleet size of 600 by 2028, which we believe is going to give us that 7-10% ASK growth for the coming five years," he says.
"We are going to be much more clear with this fleet growth as soon as we finalise our tender with the OEMs."
While Turkish Airlines has eyes on its long-term fleet plans, Seker notes the airline has been working to meet its near-term capacity needs by taking on operating leases or by wet-leasing aircraft. "For this year we receive about 35 operating lease aircraft to fulfil our aircraft needs," he says.
The airline has also been hit by ongoing issues with Pratt & Witney's geared turbofan (GTF) engines, which recently prompted the manufacturer to recall 1,200 PW1000Gs for inspection.
Turkish Airlines has 56 GTF-powered A320neos. "We have grounded nine aircraft and in the coming months our technical team is looking at the situation closely, we might be adding two or three more to the list," says Seker. "So overall we might finish the year with 11 or 12 narrowbody aircraft grounded due to the GTF engine problem."