A new US government aid package to Ukraine may include AeroVironment Switchblade drones designed to take out light-armoured vehicles.
The White House on 16 March disclosed it will provide Ukraine with an additional $800 million in the form of "direct transfers of equipment", building atop a previous $200 million.
The latest package calls for Washington to supply the embattled government of Ukrainian President Volodymyr Zelenskyy with an assortment of military equipment, including "100 tactical unmanned aerial systems".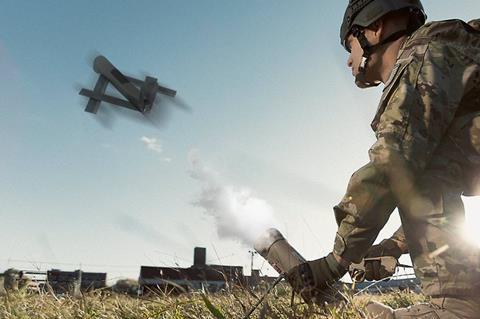 Ukraine has appealed for additional aid to fight Russia's invasion forces.
The White House provides no additional details about the drones, but Politico reported on 16 March that US congressman Michael McCaul confirms the systems are AeroVironment Switchblades.
AeroVironment declines to comment. The US Department of Defense and McCaul's office did not respond to requests for comment.
Switchblades are tube-launched, electric-powered drones that carry munitions and electro-optical cameras, which help operators strike targets.
Virginia-based AeroVironment introduced the original Switchblade in 2011 and in 2020 said it was producing Switchblade 600, a larger version equipped with more-powerful explosives.
Switchblade 600s can carry "anti-armour" warheads and are designed to attack "light-armoured vehicles" and other "hardened targets", according to AeroVironment's website.
The company has described the weapon as competing in the tactical missile market, a segment otherwise occupied by Lockheed Martin AGM-114 Hellfire missiles, Lockheed/Raytheon Javelin missiles and Raytheon TOW missiles.
AeroVironment's stock shot up nearly 10% on 16 March following reports that the USA will supply Ukraine with drones.
Ken Herbert, an analyst with RBC Capital Markets, expects Ukraine will get Switchblade 300s and the smaller Switchblade 600s, according to a 16 March RBC report.
"The drones are very applicable to the current conflict situation, as they can be used to engage long-range targets," says the report. "The drones would provide the Ukrainians the capabilities to take out Russian convoys from much safer ranges, and even destroy armoured vehicles and tanks."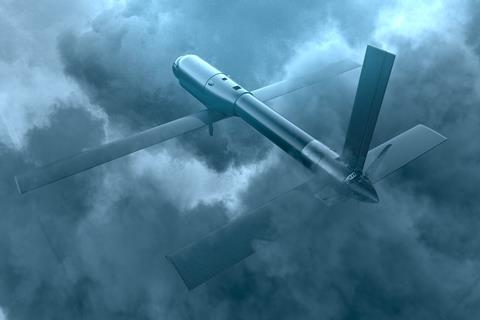 The Switchblade 600 weighs about 15kg (33lb), can be deployed in less than 10min and, once launched, can loiter for 40min. It has more than 21nm (40km) of range, and can cruise at 61kt (113km/h) and "dash" at 100kt, according to AeroVironment. The 300 version has 5.4nm of range and endurance of 15min.
The $800 million aid package also includes Stinger and Javelin missiles, grenade launchers, rifles, machine guns, ammunition and body armour, says the White House.