Airbus has performed the first flight of a modified C295 military transport in support of the EU's Clean Sky 2 initiative to lessen the environmental impact of aviation.
Conducted from Airbus Defence & Space's San Pablo final assembly site in Seville, Spain, the 26 January flight marks the start of a campaign to assess the effect of multiple enhancements made to the twin-engined platform.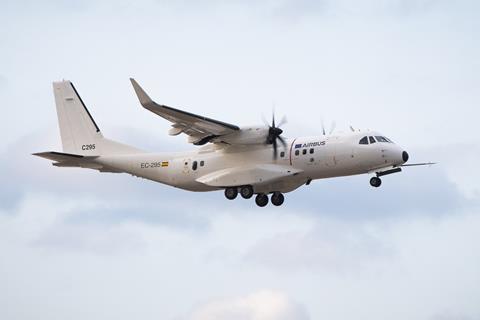 Modifications include what the airframer describes as a new, "high-efficiency semi-morphing wing" and "dynamic winglets", plus the integration of a new flight-control system.
Airbus says the last of these "leverages digital control systems to optimise the aerodynamic shape of the wing in flight, while a new multifunctional flap has been completely redesigned and includes flap tabs in the trailing edge controlled by electro-mechanical actuators". The ability to make minor in-flight control adjustments will "contribute to a more efficient high-lift system", it adds.
A flat-panel satellite communications antenna also has been embedded within the upper fuselage to reduce aerodynamic drag.
Production advances adopted for the project have included using Scalmalloy 3D metal printing materials during additive manufacturing, the company says.
"A one-shot assembly approach has been used for the new composite winglet and winglet tab, moving from the conventional ribs approach to a multi-spar integrated torsion box," Airbus notes. Additionally, it says "jig-less methods have been used for the assembly of flaps and ailerons".
"A few years ago this programme was just a dream of a more sustainable future for aviation. Today we are at the final stage and we finally made it fly," says Francisco Javier Sanchez Segura, Airbus Defence & Space's executive vice-president engineering.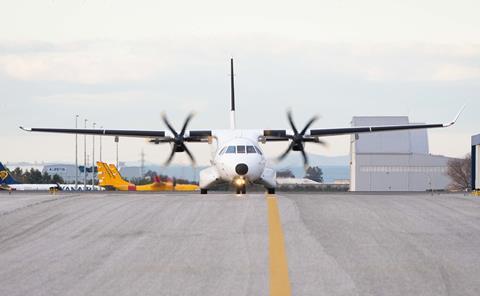 The adapted medium transport – registration EC-295, and named Flight Test Bed 2 – also will be used in support of the EU Horizon 2020 research and innovation programme, which is exploring technologies for a future class of regional passenger aircraft.
"The modifications include new materials and technologies designed to achieve noise, CO2 and NOx emissions reduction," Airbus says. "With these technologies applied in a future regional multi-mission configuration, up to 43% CO2 and 70% NOx reductions can be achieved… as well as 45% less noise during take-off."
Cirium fleets data shows that the Airbus-owned, Pratt & Whitney Canada PW127-powered demonstrator was first flown in November 1997.