Ten sustainable aviation fuel plants, each with 80,000t capacity, could generate over €2.5 billion ($2.6 billion) in revenues for Ireland by 2050 and meet European-mandated volumes for the country, an industry analysis has concluded, but incentives should be created to stimulate progress.
The research has determined that "power-to-liquid" production of synthetic e-fuel – which combines green hydrogen with biogenic carbon dioxide – will provide the "biggest opportunity" for the Irish industry.
Partners including Boeing, lessors Avolon and Orix Aviation, and sustainability specialists SFS and SkyNRG, participated in the feasibility study which ran from April 2022 to January 2023.
Under recently-approved EU regulations, the fraction of sustainable fuel supplied to airports must increase from 2% in 2025, to 6% in 2030 and 70% in 2050. A specific proportion of this fuel mix must comprise synthetic fuels, such as e-kerosene – the proportion will progressively rise to reach 35% in 2050.
This means that, by 2050, the mandated total sustainable blend volume for Ireland will be 812,000t including 406,000t of synthetic e-fuel.
The study examined such fuel sources as agricultural and municipal waste, and used cooking oil, but says the power-to-liquid and renewable natural gas avenues "seem most promising".
"[Sustainable fuel] derived from bio-based intermediates like renewable natural gas has potential to scale-up more rapidly," it states.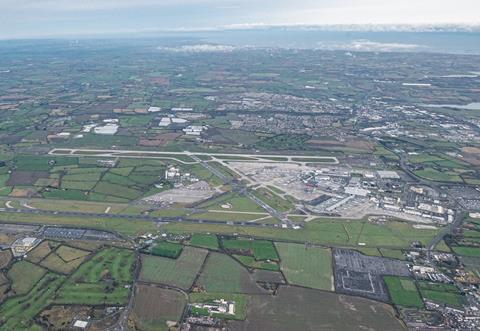 But it adds that support is still required to develop these industries and, while sustainable aviation fuel production in Ireland has potential economic benefits, development initiatives are "lacking".
"Significant progress is required for Ireland to be able to develop [aviation e-fuel] at scale, particularly to ensure renewable power is available in the scale required for production of hydrogen in the required quantities," says Boeing vice-president for environmental engagement Sheila Remes.
Offshore wind-power generation programmes already being pursued by the government, she adds, would help underpin a domestic sustainable fuel industry.
But the study has put forward several other recommendations. These include mechanisms to incentivise development – such as tax credits and guaranteed pricing – as well as funding technology through Irish institutions and government entities, while also reforming planning processes and investing in hydrogen storage and transport.
Irish enterprise and trade minister Simon Coveney insists the government is "committed" to supporting actions to reduce aviation emissions.
He says the research shows there are "clear future economic benefits" from sustainability and that the government "looks forward to engaging further with industry" to explore Ireland's sustainable aviation fuel potential.
"Ireland has an opportunity to combine its renewable resources, skilled workforce, and the right policy environment to create a thriving sustainable aviation fuel industry," says SkyNRG chief Philippe Lacamp.
"We need to build up [sustainable fuel] production capacity to cater to the rapidly rising demand. While there is still work to be done, we are convinced that Ireland can play a significant role in creating this [fuel] production capacity."