US air taxi developer Archer Aviation has secured $65 million of financing to support the construction of its electric take-off and landing (eVTOL) aircraft manufacturing facility in Georgia.
The California-headquartered start-up said on 11 October that it had closed a financing agreement with Synovus Bank and a separate development agreement Evans General Contractors to complete construction of its 32,516sq m (350,000sq ft) facility, which Archer estimates will produce up to 650 aircraft annually.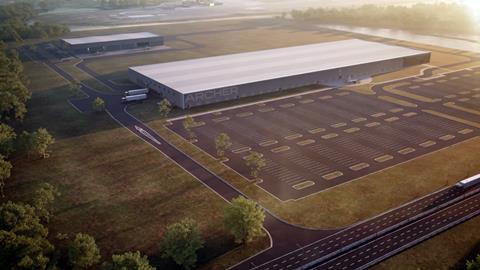 "The ability to manufacture eVTOL aircraft at scale is critical to building a successful business in this industry and Archer continues to maintain a significant lead on this front," says Adam Goldstein, Archer's chief executive. "Today, we're taking another major step forward on our manufacturing build-out by securing a design-build agreement and financing agreement for the world's first – and largest by volume – eVTOL manufacturing facility."
The $65 million deal "represents a substantial majority of the cost of construction of the first phase" of Archer's facility in Covington, which the company says can potentially be expanded to cover 83,613sq m and produce more than 2,000 aircraft annually.
Construction of the facility broke ground on 1 March and is "on target" to be completed in 2024, ahead of Archer's planned commercial service entry the following year.
In January, Archer expanded its relationship with automotive giant Stellantis, in which the two companies are collaborating on manufacturing Archer's in-development Midnight aircraft.
The four-passenger, all-electric Midnight is designed for quick turnaround trips of less than 17nm (32km), carrying payloads of about 450kg (1,000lb). The company envisions rolling out its air taxi on downtown-to-airport routes in major cities throughout the USA as soon as 2025.
Archer had previously hoped to achieve Midnight's first flight in the first half of 2023 but the aircraft has yet to get airborne. The company maintains that it is on track to clear certification next year.