AirAsia sister unit Asia Digital Engineering (ADE) has signed a letter of intent for nacelle maintenance support with Collins Aerospace.
The agreement, signed at the MRO Asia-Pacific event in Singapore, covers the nacelles of CFM International CFM56-5B engines, which power AirAsia's fleet of Airbus A320ceo aircraft.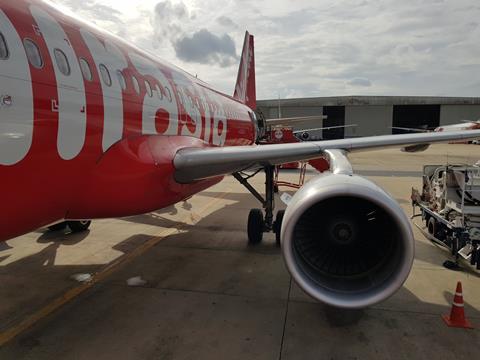 Collins technicians will provide training for nacelle inspection, composite, and mechanical repairs to ADE engineers, the RTX company adds.
"The arrangement will improve efficiencies and turnaround times for maintenance services for aircraft. This agreement contributes to the industry's environmental sustainability goals by extending the life of the plane and ensuring high dispatch reliability for aircraft," adds Collins.
Mahesh Kumar, ADE's CEO, says: "Collins and ADE have established an alliance and worked closely in the past, which will be beneficial for our engineers and technicians to learn from the best and deliver the goals of ADE."
According to Cirium fleets data, AirAsia's units in Southeast Asia have an in-service fleet of over 130 A320ceos.
Meanwhile, Singapore-headquartered ST Engineering has signed a multi-year contract with Japan Airlines, covering component support for its incoming fleet of A321 converted freighters.
The new contract, which starts in April 2024, will see ST Engineering provide component support for the A321 passenger-to-freighter (A321P2F) jets, which will be operated by JAL unit Spring Japan.
ST Engineering also renewed a separate multi-year components contract with Tokyo-based JAL. The MRO provider will continue to provide component support to JAL's fleet of Boeing 737-800s, covering pooling, repair and overhaul, modifications, as well as health monitoring and logistics services.
The two parties first entered into the maintenance-by-the-hour contract in 2018. ST Engineering also provides component support for JAL's fleet of 787s, as well as line and base maintenance for the carrier's fleet of Boeing jets.
Separately, ST Engineering has also entered into a partnership with Australian aerospace firm Quickstep to establish a regional nacelle pool in Australia.
Under the partnership, also announced at the MRO Asia-Pacific event on 27 September, ST Engineering will provide engineering support to Quickstep, to "enhance their operational delivery, quality and nacelle capabilities" for new-generation aircraft. Quickstep will provide day-to-day services at its facilities in various locations in Australia, which include Melbourne airport.
Says ST Engineering's head of component services Goh Poh Loh: "This is a significant partnership that will help ST Engineering establish a nacelle MRO presence in Australasia to better support our customers in the region."
Adds Goh: "By pooling the resources and expertise of ST Engineering and Quickstep in Australia, the partnership will benefit airline operators which can look forward to shorter lead times and savings in overall logistics cost during servicing."