Twelve months into her four-year mandate as ATR's first female chief executive, Nathalie Tarnaud Laude maintains the Toulouse-based airframer's recovery is "on track" and that it will deliver at least 40 aircraft this year, after shipping 20 units in the first eight months.
ATR has also taken 22 firm orders in 2023 – including deals with Azul, Berjaya Air, and Mandarin Airlines announced at June's Paris air show. With "more in the pipeline", Laude says she is confident of achieving a book to bill ratio of 1:1 this year, as well as restoring ATR to profitability for the first time since the Covid-19 crisis.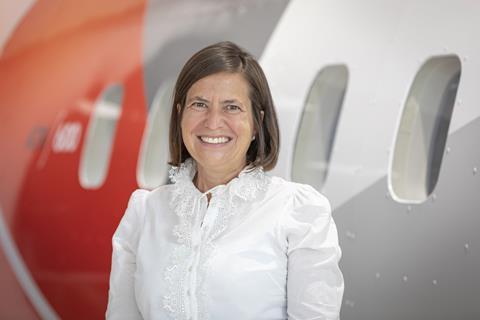 It follows a dismal 2022 in which the Airbus/Leonardo joint venture delivered just 25 aircraft and notched up 26 orders, around half the figure its shareholders had been banking on when the industry began to emerge from the effects of the pandemic late the previous year.
Speaking to FlightGlobal at the regional turboprop manufacturer's Blagnac campus, Laude, who took over in September last year, says her "focus has been to rebuild after Covid", and that she has been "encouraged by the wonderful engagement and levels of motivation from all the employees in this company".
She blames ATR's poor 2022 performance largely on "a tough [supply chain] environment", which she expects to continue into 2024. "It wasn't so much a problem with demand," she says, although she admits ATR customers tend to commit to purchases only 24 months ahead of an expected delivery.
She adds that other encouraging signals are that fleet utilisation is back to 2019 levels, with just under 1,200 ATRs in operation, and a 160-strong backlog. A glut of used examples on the market – something that hampered new aircraft sales during 2022 – has also "dried up", she says.
Her target is to bring annual production back up to 80 – the level ATR enjoyed through much of the 2010s – by the "second half of the decade", and to take the book to bill ratio "well above" 1:1. "That clearly means we will need to sell more," she remarks.
ATR will restart a 400h flight test campaign for its short take-off and landing (STOL) version of the ATR 42-600, after an initial sortie in May last year. It follows the installation of a larger rudder, built by Leonardo. The certification target is now June 2025, slightly later than previously suggested.
ATR has 21 orders for the variant, but Laude expects more to follow once the certification schedule is confirmed. The company is targeting sales to airlines that use short airfields in mountainous and island regions.
This includes Japan where Laude says there are 10 airports inaccessible to all but the smallest passenger aircraft. "With this variant we can really bring more connectivity to communities that have little or no air access," she says.
Another key development for the airframer is its ATR 72-600F freighter, launched in 2017, which comes with a large forward door. The company has yet to secure a customer beyond launch operator FedEx Express, which has taken delivery of 15 of its 30 examples on order.
Again, however, Laude is upbeat about the version's prospects, saying there are interested potential customers in regions including the Middle East and Japan. "The rise in e-commerce makes this a particularly attractive aircraft for many operators," she says.
Laude sees no early end to the supply chain snags that have bedeviled the company – and other airframers – since the lifting of pandemic restrictions. "The extraordinary recovery since Covid means we are continuing to encounter challenges," she says.
She notes that ATR has alleviated the worst effects by introducing flexibility to its final assembly, with delayed equipment installed later rather than stopping the line. "We are also holding weekly calls with our suppliers to identify problems early," she says. "We are in partnership mode."
While ATR has enjoyed sales success in regions such as Asia – which represents 40% of its fleet – as well as Europe and South America, the USA remains a largely untapped market, with commuter airlines, and their passengers, traditionally preferring regional jets to turboprops.
"The US market has not been strong for us, but it is an important target," says Laude. "My personal view is that we need to be in the US. Our environmental story makes us very relevant there, especially in areas such as California."
She believes that the closure of many regional routes and an aging fleet of out-of-production regional jets could create an opportunity for ATR, which is now the only company manufacturing turboprop airliners.
However, she admits that the "stereotype" of turboprops as noisy and uncomfortable needs to change. "The ATR is a modern aircraft," she says. "We need to change the perception by playing on our sustainability credentials."
One drawback of ATR aircraft is that their rear passenger door means they cannot connect to airbridges. The possibility of adding a front door is part of a "feasibility study where we are working with certain airlines to work out how to penetrate the [US] market," she says.
However, she stresses that this is unlikely to be a near-term move. "We would need to demonstrate the value to our shareholders," she says.
Another factor impacting the appeal of ATRs in the USA is their lack of business-class seating. However, this is something the company has addressed with the launch at June's AIX interiors show in Hamburg of its High Line series of cabin designs.
The concepts, which include a VIP interior as well as twin-class layouts, have already won a customer in Malaysia's Berjaya Air, which agreed at Paris to purchase two ATR 72-600s in a one-plus-one, all-business class configuration. The aircraft will serve its parent group's resorts from Berjaya's base at Subang.
A longer-term study for ATR remains its Evo hybrid-electric variant, which the company is considering for a possible arrival on the market in the 2030s. "While our priority is the certification of the STOL variant, the Evo continues in the right direction," she says.
ATR has requested proposals from incumbent engine provider Pratt & Whitney Canada and others for a propulsion system that could deliver a 20% CO2 reduction over the current type, with a "first assessment" due by the end of the year.
As for the current line-up, Laude – a former Airbus executive who was most recently head of the NH Industries NH90 military helicopter programme – insists that, despite their 40-year-old design, ATRs are as modern an aircraft as any on the market.
"They have been constantly improved with the latest innovations, in engines and also advanced cockpits," she says. "But their biggest advantage is their lower operating costs."